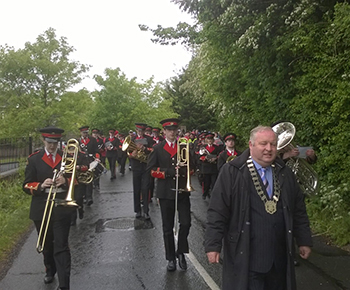 Nearly 300 braved the wet conditions on May 18th to support the Navan SVP's third annual community walk to the historic Hill of Tara.
The walk commemorated the late Michael O'Keeffe, Crossakiel, Kells, Co. Meath, a former North-East Regional Council president, whose untimely death occurred last August in a tragic farm accident. It was Michael's encouragement which led to the creation of the fund raising fixture in 2012, which has gone from strength to strength.
This year the event was started at the Ardboyne Hotel, Navan by local mayor Francis Deane, before Navan's Foresters Band led the participants at the commencement of the 9 km. trek to the fabled hill.
We would like to thank everyone who joined us on this fantastic walk, your support will help us provide assistance to people who need it the most.