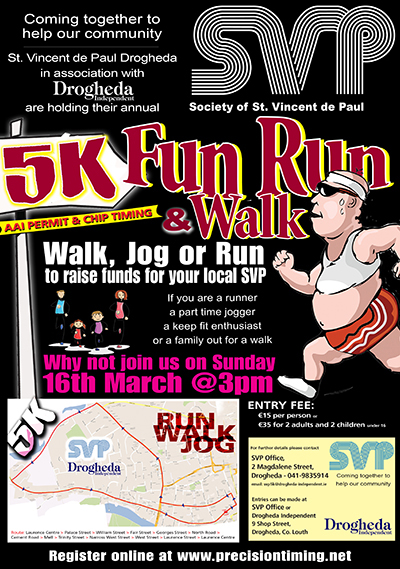 We are delighted to launch the 3rd Annual SVP/Drogheda Independent 5k Fun Run which takes place through the streets of Drogheda starting in Laurence Street on Sunday 16th March, 2014 at 3 pm. Our event is part of the Athletics Association of Ireland Calendar and is chip timed.
If you have made a New Years Resolution to get fit why not improve your health and help people in need in your locality. We invite you to walk, jog or run this very popular event. It is open to everyone all levels of fitness from the Sunday strollers to elite runners and is a great family day out.
If you are a member of a Gym, Club, Team an Operation Transformation group, Age Active group, Walking group, Mums Town why not put in a team to representative your group.The cost is €15 per person or €35 for 2 adults & 2 children and sponsorship cards are available from the SVP Drogheda Area Office.
Book online at www.precisiontiming.net or through SVP Area Office, shops or the Drogheda Independent.
Now more than ever we need your help
Help us help people in Need.