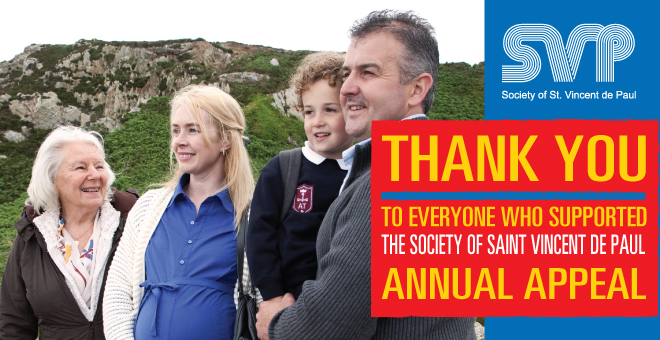 The winter months are the some of the busiest for The Society of Saint Vincent de Paul, with the cold setting in and Christmas looming, many of those who are just managing to get by are tipped over the edge with the extra demands on their income.
The SVP Annual Appeal is the Society's biggest fundraising event and aims to facilitate the extra demands placed on the Society's finances during this time. The support that The Society receives from individuals, schools and businesses over this period is phenomenal and this year was no exception.
The Annual Appeal was launched in the Sean MacDermott Street Vincent's shop on Wednesday 19th November by SVP National President Geoff Meagher, and supported by a host of special guests including Ryan Tubridy, GAA stars Denis Bastick and Killian Young, and members of The Claddagh Band to name just a few.
This year SVP partnered with Aldi to launch the 'Give a Gift with Aldi' campaign which saw Aldi encouraging people to give toys or virtual gifts to Saint Vincent de Paul, and offering an incredible prize of a year's free shopping at Aldi worth over €5,000 to those who did. The campaign was also supported by 2FM who ran a fantastic telethon from Benetton store in Stephens Green, during which a range of celebrities including Olly Murs, David O'Doherty, Homeland, Hosier and many more came by to show their support and bring in a gift for the campaign.
One of the most inspirational aspects of the SVP Annual Appeal is the way in which people come together to support us in whatever way they can. Our warehouses were hives of activity; full of volunteers pulling together to make sure all of our donations were sent out on time. Some of our Young SVP members broke a Guinness World Record for the world's longest Christmas cracker chain with 798 participants, raising both money and awareness of the Society's work. A group of children in Stillorgan gave up their play time to sell holly to their neighbours. Some dedicated SVP supporters took time out of their Christmas day celebrations to take part in a charity cycle in aid of SVP. And schools all over the county put together thousands of invaluable hampers and gifts for those in need.
During our Annual Appeal this year our members made over 160,000 visits to provide food, toys, fuel and friendship to people in need. We would like to thank everyone who donated their time, gifts, money and energy this year. Because of you, the people we helped will remember Christmas for the right reasons this year.
If you would like to set up a regular donation please click here.