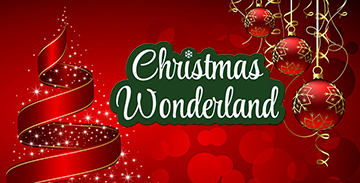 They say charity begins at home, but this Sunday, November 30th, it starts at the North Pole at Christmas Wonderland at The Farm, Grenagh, where St Vincent de Paul will have a Giving Tree, during a day of FREE festive entertainment as the buildup begins to Santa's spectacular arrival at 5pm.
There'll be something for everyone to enjoy from 12 noon, from beating the crowds and picking up some presents at the Christmas Festive-al Market, tapping your toes to some live music from 2pm, or getting in the mood with Christmas movies playing in the Haystack Restaurant. "We can't give too much away about Santa's magical arrival", says Marie Forde, "But people will be left in no doubt that it's Christmas this Sunday, so make sure to set the alarms to get ready, arrive early and enjoy the day".
Santa will be meeting all the boys and girls to hear what they would like to find in their Christmas stockings this year before the first booked trips will be taken on the North Pole Express to Christmas Wonderland, via the live crib, Magical Forest, Elves Workshop, Santa's Office and Mrs Claus' Kitchen to the journey through the clouds to Santa's Log Cabin.
But Santa and the elves know that some boys and girls won't have the perfect Christmas this year, so in conjunction with St Vincent de Paul, there will be a Giving Tree in the restaurant, where people can make donations to the charity or leave a present to be given to families in less fortunate circumstances.
"We're aware that not all families will have a magical Christmas experience, so to mark 3 years of Christmas Wonderland, we're waiving the entry fee to The Farm this Sunday, encouraging everyone to come to Grenagh and enjoy a little bit of Christmas, but we are also asking people to think of those less fortunate and to maybe leave a present or make a donation at the SVdP Giving Tree", says Marie.
"This year, we will be helping over 140,000 people over the Christmas period, it can be a very hard time for families, with expectations of presents and expensive dinners and we really appreciate any and all donations, and we want people to know that they truly make a difference" Cork St Vincent de Paul says.
Thousands of people are expected to visit Santa on the North Pole Express at Christmas Wonderland, with bookings constantly coming in. "This year we introduced online booking, which has been very successful and there's still some availability to create some very affordable special Christmas memories ", says Marie.
The 45 minute, mostly indoor Christmas Wonderland experience sees jolly Christmas elves scurrying around bringing visitors on the wheelchair accessible train to meet Santa and Mrs. Claus. Cameras are essential to capture the smiles on the children's faces with plenty of photo opportunities on the journey.
Christmas Wonderland at The Farm Grenagh is just 15 minutes from both Mallow and Cork City. Children are €15 (including present), adults €10 and kids under 2 go free. Bookings must be made in advance and can be done online at www.visitthefarm.ie as well as in person at The Farm or by calling (021) 462 9816