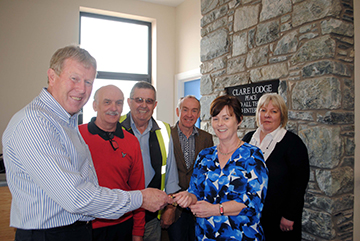 Last week a significant milestone was reached in the redevelopment of Clare Lodge in Newcastle, St Vincent de Paul's only holiday centre in Northern Ireland. The keys of the new building were handed over by the construction team and the property is now in the hands of St Vincent de Paul.
Aidan Crawford, president of SVP's Northern Region commented, "So much hard work and planning has gone into this development so to reach this significant milestone in this project is very exciting! We would like to say a huge thank you at this stage to everyone that has put so much time and effort into the rebuild of Clare Lodge including the local St Vincent de Paul team and to the architects and contractors – they really have done a first-class job. The building is exactly what we wanted – a modern, spacious centre that is more suited to the 21st century and one that maximises the superb location and unbeatable views that our site has to offer.
"We are delighted that the construction phase is now complete and that we now have control of the premises. We are looking forward to getting the centre up and running and the Clare Lodge team will spend the next couple of months furnishing the building, recruiting new staff and putting the finishing touches to the facility to ensure it is top condition before opening it to the public. Watch this space!"
PHOTO: Spencer Savage from MSM Contracts hands over the keys of the newly rebuilt St Vincent de Paul premises to Brenda McLarnon, Clare Lodge centre manager. They are joined by Aidan Crawford, president of SVP in Northern Ireland, Pat Mackey, site manager, Tom Mulholland from SVP and Kathleen McGrath Area President for SVP in Kilmeggan.