21 November 2022... From Monday to Thursday this week an unusual pop-up shop Essentielle Boutique will make an appearance in Dublin's Powerscourt Townhouse Centre in support of the Society of St. Vincent de Paul (SVP) Annual Appeal.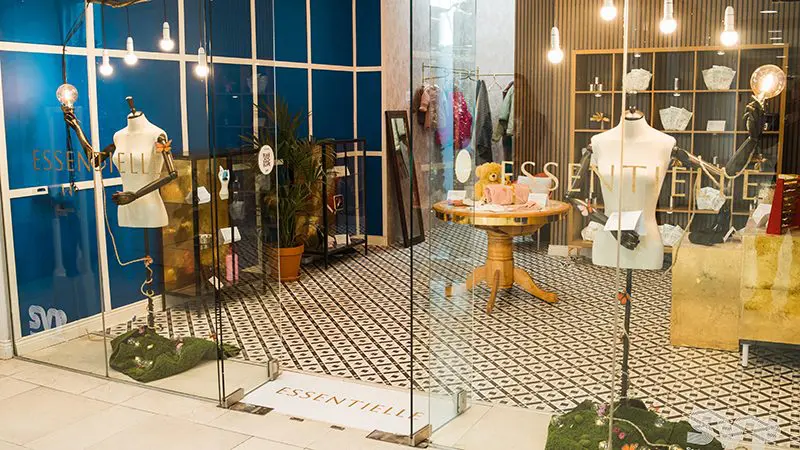 Essentielle Boutique
The pop-up Essentielle Boutique located on the top floor of Dublin's Powerscourt Townhouse Centre. It was officially opened today by Radio & TV Broadcaster and Podcaster, Doireann Garrihy.
It has the appearances of an elegant a high class shop. But instead of designer handbags or Italian leather shoes adorning marble table tops and glass displays, there will be basic everyday items on display. To highlight how these items have become a luxury for many people who are struggling in Ireland.
This pop-up luxury shop is stocked with items that reflect requests for help received by SVP. These requests are from families who have to make impossible  choices.  The positioning of the most basic requirements for many people within a luxury display is to draw attention to the harsh reality of families struggles to provide for their basic needs.
Visitors to the luxury shop Essentielle Boutique will be able to donate to the SVP Annual Appeal through a QR code in the shop. The boutique will remain open until Thursday 24th November.
Increasing cost of living
The SVP Annual Appeal was launched last week as the as the Society is in its busiest period of the year and is already receiving an average of 800 requests for help every day.
Speaking about the Essentielle Boutique SVP national president Rose McGowan said that with one in five people living in poverty across the State and many others struggling with the increasing cost of living. SVP continues to need the support of the Irish people.
"We are asking people to please donate whatever they can spare at either a local collection, online  or over the phone. To help people who are struggling now and will continue to struggle through this winter and into the new year."
Requests for assistance
All the items on display in the Essentielle Boutique are accompanied by the real words of requests for assistance received by SVP. Such as a mother who said: "Please, I need your help; the weather is getting so cold. My kids need winter clothes, socks and gloves. I have nothing left after all my bills have been paid. Please help me, God bless you more. Thanks."
Or another who said, "I'm looking for any help you can give with groceries. The cost of living is just too much right now. Just some bread and tinned foods. Maybe some easy peel oranges I can give as snacks for my six-year-old in his school lunch box? I hate the thought of him going to school without enough food for his lunch."
To donate:  https://www.essentielle.ie/  or svp.ie, and nominate your local area