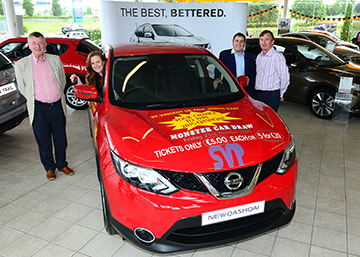 Annual SVP Monster Car Draw 2015
The North East & Midlands Region of St. Vincent de Paul is delighted once again to announce their Annual Monster Car Draw 2015.
The draw provides an excellent opportunity for participants to donate to this very worthwhile charity while also providing them the opportunity of winning a 2015 Nissan Quasqai
By supporting us you are in a practical way helping us alleviate the effects of poverty on individuals and families throughout our region. Completed tickets stubs can be returned in the freepost envelope provided.
Tickets will be issued by An Post in early August across the region. The draw takes place on Oct 23rd next.
Thank you again for making St Vincent de Paul your charity of choice.
Best of luck!