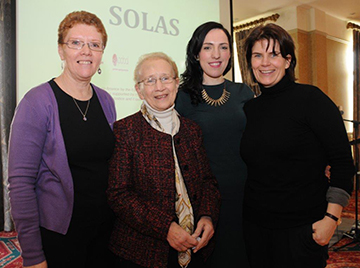 SOLAS (Support, Orientation and Learning for Asylum Seekers), a pilot project set up to offer services to asylum seekers on a regional (Galway/Mayo) basis held a seminar 12th January 2014 entitled 'Moving Forward: Reform & Solutions in the Irish Asylum Process'.

The purpose of the seminar was to raise awareness on the issues faced by Asylum Seekers and to discuss solutions for reform of the current reception and legal framework for those seeking asylum in Ireland.
Notable speakers included Sue Conlan (CEO of the Irish Refugee Council) and the Honourable Justice Catherine Mc Guinness who spoke on best practice in the reception and legal conditions for Asylum seekers.

The second half of the day saw attendees which included asylum seekers and members of the statutory and voluntary sector come together to work on solutions both short-term and long-term to improve the current asylum process in Ireland. Solutions gathered from the seminar will be submitted to the Department of Justice and the government's Working Group on Asylum, requesting immediate reform to the current system.

The SOLAS project is a partnership between Mayo Intercultural Action, Croí Na Gaillimhe, A Resource Centre of St Vincent de Paul and the Health Services Executive ( HSE) West. Any queries regarding the seminar submission or other aspects of the project can be directed to Mayo Intercultural Action by telephone on 094-904451, by email to miamayo@eircom.net or to Croí Na Gaillimhe staff at 091-895203 or email at lneedhamsvp@eircom.net.
Visit www.croinagaillimhe.ie for more information.