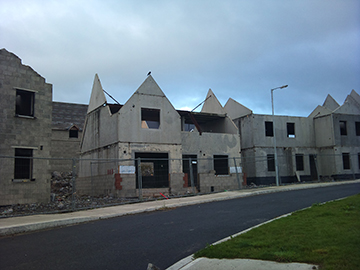 The report published today by the Housing Agency contains personal experiences of families living in emergency accommodation, hotels and B&Bs in Dublin.
According to the Society of St Vincent de Paul (SVP) the experiences of those families featured in the report mirror the experience of the many families living in these conditions who are visited by SVP volunteers.
John-Mark McCafferty, SVP Head of Social Justice and Policy said: "Our members are particularly concerned about the level of uncertainty for these families and the impact on the educational, health and psychological needs of the children involved.
"We believe that the impact on family life is not being given the priority it deserves in National Policy. It would appear that every household is now an 'exceptional case' and an integrated approach for dealing with the scale of the problem is lacking.
"Our members provide as much practical and emotional support as they can when requested to visit by the families. In some instances, SVP members have provided small fridges for the rooms in hotels & B&Bs so that parents can have fresh milk for babies' bottles and snacks for children whenever they get hungry; and helped with the cost of transport to schools, as the B&B or hotel can be at the opposite side of Dublin city or country from homeless children's schools.
"Most families now in hotels and B&Bs are in emergency accommodation directly because of huge rent increases in the private rental sector according to the Housing Agency report.
"SVP has proposed that there should be an immediate increase in Rent Supplement limits. It is urgently needed as a preventative measure to homelessness for families on social welfare who are already in the private rented sector.
"We have also recommended that a financial incentive should be provided to private landlords for accepting tenants on the new Housing Assistance Payment (HAP) on the firm condition that the quality of private rented homes is improved over a reasonable time period.
"The problems with Rent Supplement and the recently introduced Housing Assistance Payment are compounded by the dire lack of social housing units available. Despite assurances by Government of 35,000 new units by 2020. SVP is concerned, not only that the targets will not be met, but that the new supply will not meet the level of housing need in Ireland. SVP wants a review in early 2016 of the Government social housing delivery to date against their own targets and in light of housing need, which is expected to increase substantially due to home repossessions and increasing family homelessness." he said.