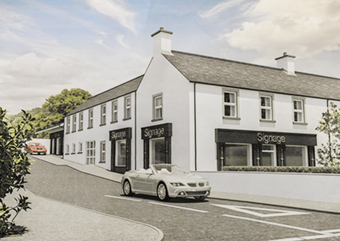 The eagerly awaited 'Grand Opening' of the transformed St Vincent de Paul shop, Vincent's, in Cookstown will take place on Sunday 26 April at 3pm and SVP members are inviting everyone from the area to join them to celebrate the launch of this new community hub.
Since last summer, the Society's premises at Loy Street has undergone extensive renovation and refurbishment converting the old building into a trendy, modern and bright shop which would rival any high street boutique, but without the high price tags. There is also a separate new spacious furniture showroom at the back offering great value quality stock including suites, beds, white goods, tables and chairs to meet every demand. Children will also love the extensive display of new and nearly new toys.
SVP is delighted with the transformation and is keen that the building will be used by everyone in the area. Denis Loughrey, president of SVP in Cookstown explained: "We are really excited about how the upgrade has turned out and can't wait to open it up and share it with everyone. As well as being a great investment for the charity, which will support us in our work to alleviate poverty in the area, we also see this new facility as a real hub for all the community. Our new, larger Vincent's shop and furniture showroom offer a more extensive range of first and second hand bargain goods for all the family and to suit a variety of budgets. We will also have a coffee machine and a small soft-seating area in-store which will be a great place for people to catch-up and have a chat with our friendly volunteers.
"In addition, we have extra space upstairs which will be used to store food collected for those who we help and will also provide training rooms and facilities which will be utilised by SVP along with many other local groups such as Suicide Awareness and STEP Debt Advice. Indeed, we would welcome any other community organisations that might have a need for our facilities to get in touch."
He added: "We are really looking forward to the Grand Opening on Sunday afternoon and I would ask everyone to please come along at 3pm to see what is on offer. Refreshments will be available as well as an opportunity to have a look around the new facilities – I think everyone will be pleasantly surprised! We have a great range of stock available so those there on Sunday will be in the lucky position to get first pick and might be able to grab a special bargain before the shop officially opens its doors on Monday!
"I would also like to take this opportunity to recognise the public for their unwavering support of SVP over the years as without them, none of this would be possible. Thank you to everyone as well that has worked so hard on this specific project over the last 10 months and to the community who have really got behind us in various fundraising activities. We hope everyone will agree that it was worth all the effort and will be as happy with the new facilities as we are. We are, of course, looking for extra volunteers of all ages to help us out in the new shop so if anyone has a few spare hours every month that they would like to put to good use, we would love to hear from you!"
The SVP 'Vincent's' Grand Opening event will take place at the premises on Loy Street at 3pm on Sunday 26 April. Everyone is invited to attend and refreshments will be available. The Vincent's shop will then open from Monday 27 April.
To find out more about St Vincent de Paul in Cookstown, please call Denis Loughrey on 028 86769400 or visit www.svp-ni.co.uk.