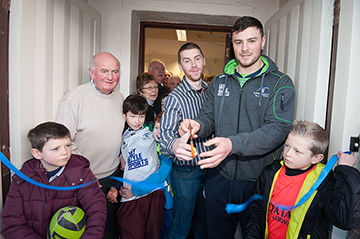 Popular rugby star Robbie Henshaw was the special guest at the official opening of the Curiosity Shop in Main St, Oranmore on Wednesday 21st January, 2015 the new Society of St Vincent de Paul (SVP) charity shop selling second hand and some new items, is a valuable source of fundraising for the important activities of SVP providing support to those in need in the region. Robbie Henshaw was welcomed by SVP shop staff and volunteers. Lots of local families turned out for the opening and were delighted with the opportunity to meet Robbie and get his autograph.
Ann Coyle, President of the volunteer group which oversees the operation of the Curiosity Shop in Oranmore and its sister store on Merchants Road, Galway welcomed all guests and spoke of her vision to open a shop in East Galway and was delighted to be present for the official opening after all the planning and organisation. She wished Rob Pierce Martin the best of luck as manager of the Oranmore store.
Also speaking on behalf of SVP, Gerry Watters, Galway Shop Manager said, 'We would like to thank all the supporters who helped in the realisation of the new shop opening, these include Madge McGreal, SVP regional administrator and a number of volunteers including Michael Begley and Jim Harrington. Several locals assisted with the refurbishment of the property including Jarlath Sweeney who supplied the shop fittings and undertook internal building works, John O'Brien installed the fittings, our thanks also go to David Healy, electrician, Niall Carroll, plumber and Tom Dempsey who supplied the flooring. This project received great support from Tony Buckley and the team in Galway City Partnership, TÚS workers and Julie McGrath of Galway Rural Development Co.'
'We are really pleased with the bright and modern shop, and we hope that customers will enjoy the experience. We are most grateful for all offers of support and donations of saleable items,' commented Rob Pierce Martin, manager of the new Curiosity Shop Oranmore, 'there's definitely something for everyone here, from clothing, footwear, games and books for kids and adults, to everyday wear as well as occasion outfits for all the family.'
A treasure trove of exciting finds, the shop is based in a newly refurbished retail unit, with its own car park, in the centre of Oranmore village, next door to Supermacs and opposite Kearney's Petrol station. At a glance, you will see a wide choice of second-hand and nearly new clothing for men, women and children, footwear, antiques and collectables as well as household items, games, books and CD's. You might be really lucky and hit on a winter coat and it will be new for you. When you step into the shop you are helping to make an important contribution to the work done by SVP to combat poverty and support people in need in Galway. All money raised in Galway stays local.
The SVP Curiosity Shop is one of the major fundraising activities which the charity undertakes to support its commitment to fight poverty in Ireland in all its forms, through practical assistance of people in need. SVP provides a range of services for vulnerable people through their local home visitation, offices, shops, resource centres, housing, daycare and holiday schemes amongst others.
For further information please contact shop manager Rob Pierce Martin Telephone: 086 048 6300.
All support and donations of clothes, footwear, toys, books, accessories, unwanted gifts and small household items in saleable condition are most welcome. Volunteers to assist in the day-to-day running of the shop are also welcome and training will be provided.