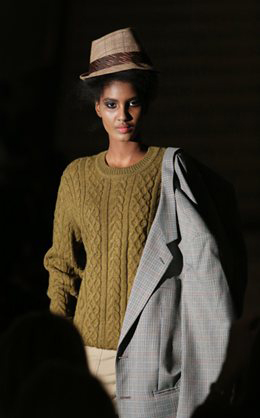 Parliament buildings at Stormont had some very glamorous and fashionable visitors on Friday 21 March as fashion fans, models and stylists from Belfast and beyond flocked to the Great Hall for the third and final catwalk show of West Coast Cooler Fashion Week.
Audience members were treated to the 'Charity Challenge' which involved thirteen bloggers and stylists teaming up with thirteen charities to style up a mini collection from each of their respective stores. And they didn't disappoint! The style teams showed off their exceptional creative flair as the quirky and vintage ensembles demonstrated that you don't need to spend a lot of money to look stylish and on trend.
Ruairi Murray, Regional Shop Co-ordinator for Vincent's explained: "Vincent's are delighted to be part of Belfast Fashion Week and to have accepted the Charity Challenge. Working with Nicola McLaughlin from thesequincinderella.com, we aim to show that style and value go hand in hand at Vincent's which supports the work of the Society of St Vincent de Paul. Vincent's have 29 shops across Northern Ireland raising funds for the fight against poverty locally."
The clothes were modelled beautifully by some gorgeous new faces as ten finalists from the iconic Covergirl competition, strutted their stuff for the first time on the Belfast Fashion Week catwalk.
The evening concluded with a theatrical show from multi award winning artist and Fashion Week make up partner, Paddy McGurgan, who wowed the crowd with his 'Birds of Paradise' colourful body art make up show. Paddy's dramatic show incorporated music and dance to make it a spectacular visual display which mesmerised the packed out audience. Gorgeous models sported large feathered wings, rhinestones and gems as well as dramatic body art as they glided and fluttered their way down the catwalk in the imposing Great Hall.
All the Vincent's outfits from the catwalk are now for sale at Vincent's 196-200 Antrim Road.