A Profile of an SVP School Conference – Holy Child School, Killiney, Co. Dublin
The SVP School Conference in Holy Child School, Killiney, is named after our Foundress, Cornelia Connelly, and is one of the many ways we live our school motto 'Actions not Words'. We have been supporting our local area Conferences for over 30 years, and in 2008 we decided to establish a School Conference with student leaders, mentored by our Chaplain, Mrs Moiselle, and helped by some other interested teachers.
Cornelia Connelly Conference is a whole school activity, led by a team of Fifth year students. Alongside this group each class nominates a SVP Representative who attends meetings, and co-ordinates the activities within her class. All SVP Representatives are proud to wear the Holy Child Killiney SVP badge, which has the logo of the Society, encircled with the words ' Cornelia Connelly Conference'.
We have 15 Fifth Year students who have volunteered to be in the Leadership Team. Each member has a very important role to play, and we were interviewed by our Chaplain and another teacher to be assigned these roles. We have a President and Vice President who lead the team; a Secretary who take the minutes and records all correspondence, and a Treasurer who keeps our accounts. We have a P.R. student and a student who is responsible for the SVP Notice Board; other students are involved as link persons with the Class Representatives, and we find this is a really efficient way of co-ordinating school events such as the Christmas Campaign and the Afternoon Tea Gatherings.
Even though we all have our own responsibilities within the group, we all work really well as a team.
We have a lunchtime meeting each Tuesday which begins and ends with a prayer, and we discuss and plan our activities and events. The Conference Team Leaders attend and, if we are planning an event or activity, the Class Representatives also attend. This means that the whole school is also involved in the work of Saint Vincent de Paul, and that we get to know girls from the younger years very well. Mrs Moiselle attends the Area Meeting and she sometimes shares some news with us about National campaigns or new initiatives.
Our Conference has very strong links with four local Conferences in Killiney, Shankill, Loughlinstown and Sallynoggin, and with the Hospital Conference in the National Rehabilitation Hospital.
We organise our Gift and Hamper Campaign to support the work of these Conferences who help families who need some support. Each class is assigned a family to buy gifts for, and the girls contribute €5 each. We really enjoy going shopping on the Saturday before Christmas and packing large gift bags for 18 families. Hamper Day is also a great success, and this year Holy Child Conference packed 27 hampers, filled with food donated by the school community. We spent an afternoon wrapping gifts, covering boxes and packing the food in the old gym; it was great fun, while very rewarding to think that we were making a difference to people.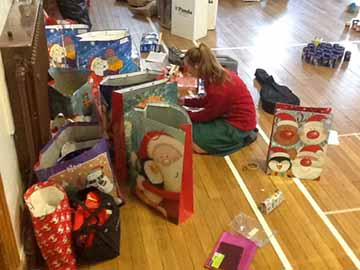 For the past four years we have also packed hospital bags for long-term patients in hospitals, and this year packed 22 bags for the Hospital Campaign; we help with the delivering of the Christmas Appeal letters for three local areas, and we also volunteer in providing the music at the local Saturday Coffee morning, to help encourage people to come on in and donate to the Rehabilitation Hospital in Dun Laoghaire.
We invite a local area Conference President to address the school community at our Christmas Assembly on the last day of term. This year we were delighted to welcome Terry O' Regan who gave us an inspiring talk on the work of her Conference.
Each term we organise an Afternoon Tea Gathering for older people in the area. We have had as many as 35 guests at these events and they are really enjoyable for everyone, both the older guests and the girls who help. The girls bake really lovely food, and we have excellent musical performances from the students in every year who selflessly give of their time and talent. We pick a theme for each gathering, like Halloween, St Valentine or St Patrick's Day, depending on the date, and we really enjoy chatting and getting to know our guests.
Each year the Fifth Year Team Leaders plan a Peer-Teaching class for the Third Years, teaching about Saint Vincent de Paul as a Community of Faith. This ties in with their Junior Certificate Religious Education Exam, and, although it is a big challenge to prepare and teach, it is very worthwhile. We spend a long time preparing the class, researching the content and planning activities. We don't think anyone will be choosing a career in teaching after seeing the amount of preparation that goes into one 40-minute class period! We give the Third Years a treat of a 'Freddo' chocolate bar - this is so appropriate as it helps them remember the name of Blessed Frederic Ozanam, founder of the SVP!
Last year the Fifth Year Team and all the Class Representatives went to the Daughters of Charity of Vincent de Paul House in Blackrock for a special event to conclude the year by Dart, followed by hot chocolate in Blackrock, and then walked to Dunardagh.
We had the opportunity to visit their Heritage Room and to hear about different Vincentian groups who work with Prisoners, Immigrants and in disadvantaged areas encouraging people to vote. We also saw some of their work with older people and people with an intellectual disability - it is a really interesting and inspirational exhibition.
Then we went to the Chapel for a Blessing Ceremony where we were all commissioned as young Vincentians, and given a Certificate. Sr Anne Neylon gave us a wonderful welcome in Dunardagh and it was a really enjoyable and informative trip.
Finally, 6 lucky girls from Holy Child are chosen each year to volunteer for a week in Kerdiffstown House, helping with the older people from our area who really enjoy this holiday break. Jennifer Cuffe is our adult mentor in Kerdiffstown, and she puts the girls through their paces! We are all going to apply this year as we have heard all about it in Assembly, and it sounds like really hard work, but such fun, and that's a story for another article!
To conclude - here are some words from a few girls in Cornelia Connelly SVP Conference explaining what it means to them to be involved:
Being in SVP gives us a chance to share ideas and build connections with others- Caoimhe and Lydia.
SVP gave me the opportunity to bring happiness to people just around the corner, our neighbours, old and young - Mia.
SVP gives me a chance to give back - Sara.
SVP gives us life experiences which will stand to us in later years, and helps us be more understanding of the causes of poverty and injustice - Emily.
In SVP we learn that school isn't all about academic results, but also about developing social awareness - Alison.
I love the atmosphere that SVP brings to Holy Child; we get the opportunity to work with the younger students and hear their opinions, while doing good for others. Our Principal even agreed to buy a Microwave so that we wouldn't be late for the lunchtime meetings.... We have nicknamed it 'Fred!!' - Kia.
SVP is like working with a close-knit group of friends. My aunt is involved, and my older sister - Hannah.
By helping others I help myself, and become aware of what's happening in the community - Sabrina.