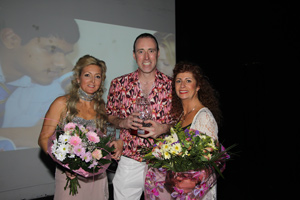 Ozanam Come Dancing was held in Liberty Hall on Friday 6th March last. A sell-out crowd of 400 people filled the venue and were entertained by our 10 amazing couples who danced the Pasodoble, the Charleston, the Jive, Disco and Swing among others.
Our amazing host Brendan Courtney was joined by our Judges, Denis Hickie and Katherine Lynch and by Tony Rock, the centre manager, who was a surprise judge on the night. All shared their wisdom, insight and laughs throughout the evening. Our volunteer dancers came on board from within Ozanam House, the wider SVP Network and some of our supporting companies including McCann FitzGerald, Diageo, Abbey Capital and FK International and a huge thank goes to them all for their hard work, commitment and support.
Massive congratulations goes to Ozanam Come Dancing 2015 Winners Shane & Judith who danced an amazing 'Hustle'! Shane has been volunteering in Ozanam House for 4 years and Judith works for FK International and was delighted to be on board. Well done to both of you and again, a HUGE thank you to everyone involved for all of your efforts and support in making Ozanam Come Dancing an incredibly successful evening.
We look forward to seeing you all on the stage next year!