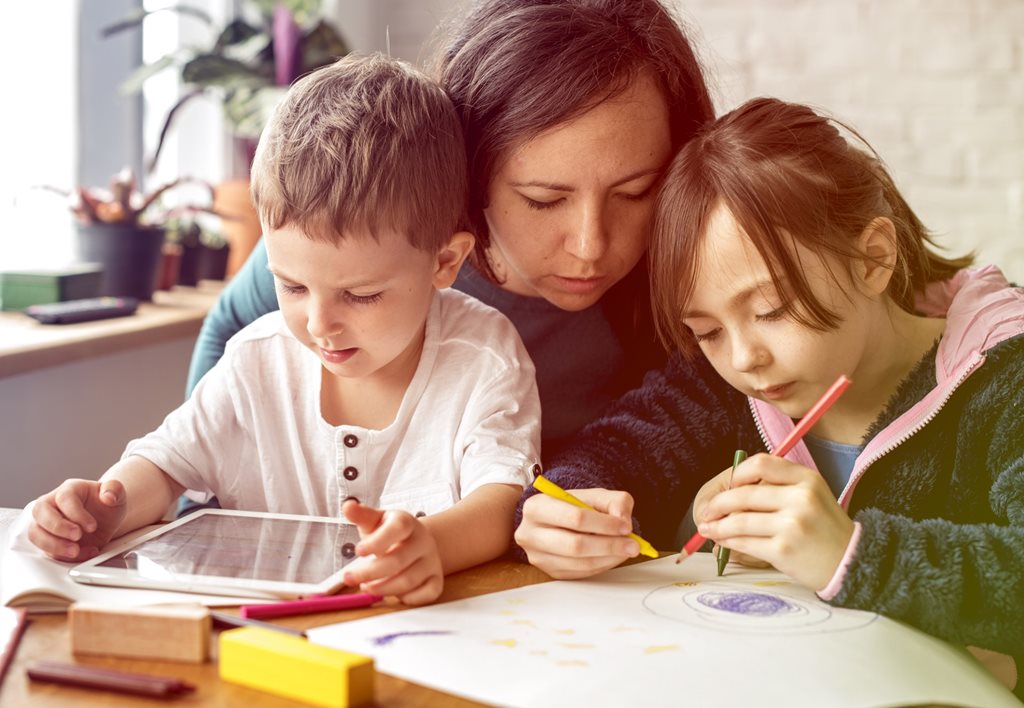 As a result of COVID-19, Education has shifted from the classroom to the home. For some children and young people, they will thrive and adapt easily to their new learning environment, and for some, this will amplify their learning disadvantage. This is due to while schools do not fully close socioeconomic gaps, they are an effective and important resource for families . This is the experience of SVP members as they continue to support low income and disadvantaged households during the pandemic.
The Department of Education and Skills (DES) has made resources available for both teachers and parents, and individual schools are providing varying levels of supports to families including the use of apps to communicate with students.[1] However, a parent's capacity to provide and effectively use these resources is restricted in some situations thus widening educational inequalities.
Some households lack the physical resources necessary to support their child's learning. For example, SVP members support families living in homeless accommodation and direct provision centres. It is very challenging in those circumstances to study when there is no separate space away from the rest of the family. Children and young people from the Traveller community also experience similar difficulties. A further issue which has arisen for members is the number of households who do not have access to a laptop and internet. For many households struggling with the high cost of rent and utilities, having a laptop and broadband is a luxury not a necessity. Parents with literacy issues are also struggling to engage with the school curriculum. For those students who do not attend DEIS schools and are not involved with the School Meals Programme, SVP are worried that their most basic needs, the need for nutritional food in order to learn and grow is not being met adequately.
'Covid-19 Practice in Primary Schools in Ireland', was conducted among principals and deputy principals almost two weeks after the school closures. The report by Maynooth University, collates and analyses the responses from over 2,800 primary school leaders to a survey researching how schools have managed since they were abruptly closed on Thursday 12th March.[2] The report states that not all parents have the skills, time or health to help children with distance learning and not all schools and pupils have the necessary technology to enable such learning. Research carried out in Australia in 2013 had similar findings in relations to access to technology. While some 87 per cent of Australians can access the internet at home, only 68 per cent of Australian children living in disadvantaged communities have internet access at home, compared to 91 per cent of students living in advantaged communities.[3]
The Minister for Education and Skills announced recently a special €10 million fund to support the purchase of technology and devices for disadvantaged students. It is expected he will make a further announcement to make a number of websites 'zero rated'. This would allow students to access these sites with no data costs.[4] This is to be welcomed, however, we need to see these initiatives rolled out in a prompt and coordinated manner for the benefit of students who require these resources to learn.
For the thousands of families who were already struggling with low-wage and precarious employment, housing insecurity, lack of affordable childcare and social isolation, Covid-19 has added to their burden, not least on the educational implications of our young people. Efforts to support disadvantaged students to learn during the pandemic have been positive if somewhat disorganised. However, there is further work to be completed to ensure that inequalities in education do not become more pronounced during the current public health crisis. This could also be an opportunity to level the playing field; for the new Government to learn some lessons about how education could be designed more equitably.