"Christmas was a particularly hard time for us. There was no money to buy presents, or anything really. So, I'll never forget the gingerbread men on Christmas Eve. I opened the front door and I didn't know what had been left in the porch. I pulled back the white cloth on the basket to reveal two gingerbread men. It was then I realised it was a gift from the local SVP volunteer, Sinead.
That was the moment I thought: "Wow, someone actually went out of their way to do this for us. Someone out there is thinking about us on Christmas Eve." That really meant a lot.
But it hurt too… it brought us back to our home where we rarely got anything like that.
Back in November of that year, my younger brother Brian and I had to leave our family home. Things had gotten too bad for us to stay there. I was eighteen and Brian was just sixteen.
I didn't know what was going to happen. How we would find a place to live. How I would do my Leaving Cert exams in a few months' time. We worked part-time jobs after school to save for a deposit on a rental house. In the meantime, we stayed on friends' couches and floors.
Someone in school mentioned St. Vincent de Paul. We rang and Sinead came to meet us.
We'd never really opened up to anyone about our family situation. It was a huge relief knowing we had someone to talk to and we weren't alone. We would have frozen that winter without the generosity of SVP supporters like you. Sinead helped us with rent for our new home, food vouchers, bus tickets and coal to heat the place.
I really want you to know how grateful we are. The support we received from SVP changed our lives. It helped me get through the Leaving Cert and into a place in university. Without this help, we could have been on the streets.
I like to think of it as a ripple effect that has come around full circle. That's because I now work in an agency helping students who are struggling in college. It's amazing what a few gingerbread men and the generosity of people like you can do.
I hope you and those you hold dear have a Christmas filled with happiness and laughter."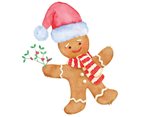 Liam and Brian were helped by SVP volunteers when they lived on their own and attended college. Today they are both working and supporting themselves. Based on a true story from a family helped by SVP. Names and some details have been changed for confidentiality.
Please consider a gift today and help ensure people like Liam and Brian receive the support they need. Thank you.