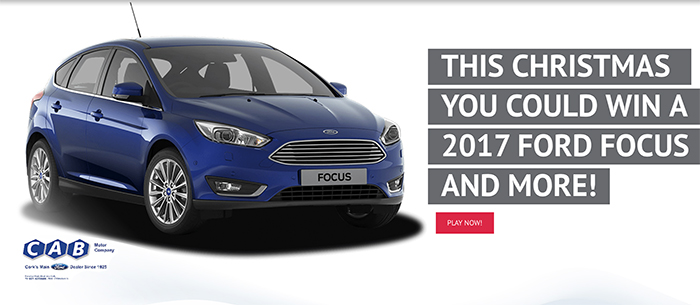 Many families and individuals in your local communities are turning to the Society of St Vincent de Paul as they struggle to put food on their tables, heat their homes and provide gifts for their children this Christmas.
For these people in need the prospect of an empty Christmas is very real.
CAB Motor Company have once again partnered with SVP to raise badly needed funds this Christmas through our Annual Car Draw. For the fourth consecutive year CAB have donated a car as the first prize in the draw which will take place on 22nd December.
Seven other cash prizes will also be given out. Tickets have been distributed to homes and businesses through Cork city and county and can be purchased for just €5 each. The lucky winner will be presented with a brand new Ford Focus. There are a further six cash prizes from €1,500 - €250.
Funds raised through the draw will be used to assist the needy this Christmas and during the cold winter months ahead. Last year SVP Cork helped over 5000 families.
You can also buy tickets for this draw online.
Please say Yes to SVP by supporting this worthwhile draw.
Your Yes can last a lifetime!
Further information: Anne McKernan 086 024 9518 or Gerry Garvey 086 183 7272