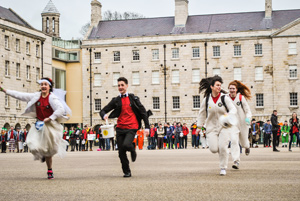 At 9am on Saturday 7th March 88 teams gathered at Collins Barracks, Dublin, to take part in the annual Jailbreak competition run by Trinity VDP, Law Soc. and DU Amnesty.
This year teams raced to reach an unknown destination within 36 hours, without taking a flight of more than two hours, flying out the same country they flew into, or using any of their own money. They also had to complete at least four charity challenges before the finish line.
Before competitors raced off they were told only that the location was in the Balkan Peninsula, with further clues to the exact place to be given over the weekend.
For the first 24 hours teams blagged, bartered and schemed their way towards the peninsula, before finally being told at mid-day on Sunday the exact location – Lake Bled, Slovenia. This proved a little late for one of the competitors who a few hours earlier, while in Slovenia, had traded his flip flops for a seat on a bus to Croatia– certain that it would be the final destination!
The winners, Trinity students Ahmad Mu'azzam and Hugh Weldon, arrived in Lake Bled at around 1pm on Sunday, seven hours before the 8pm deadline, after fundraising for flights on Grafton Street; bartering for a taxi to Dublin Airport; taking a flight to Paris; fundraising in Charles de Galle Airport; taking a train to Brussels and being upgraded to first class on a flight to Ljubljana! They have so far have raised over €2,000 for St. Vincent de Paul and Amnesty International
Jailbreak has raised an incredible €60,000 this year for The Society of St Vincent de Paul and Amnesty International. You can read more about the Jailbreaker's adventures or donate to the teams at jailbreakhq.org
Congratulations to all the teams and thank you to everyone who supported them this year!