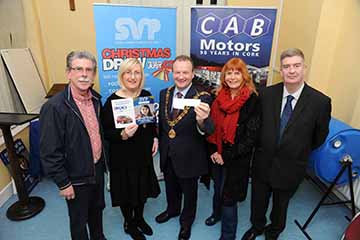 The SouthWest Region of SVP held their Annual car draw raffle on Monday 21st in their hostel in Deerpark.
Lord Mayor Chris O'Leary drew the winning ticket. When they rang the lucky winner from Macroom to tell them the good news you can only imagine the lady's disbelief and she thought it was a hoax!! The mum Marie actually bought the tickets but put her childrens names down. She told us that the only thing she ever won was a box of Heros!
The SouthWest SVP would like to thank all who supported their Annual draw, all the volunteers and staff who worked tirelessly to make this a success and also CAB Motor Company for donating the car. CAB have also said that they will be delighted to partner up with SVP again next year and we are so grateful for their support.
Winners of the Annual SVP Christmas Draw 2015 in aid of the Society of St Vincent de Paul
1st Prize: Ford Fiesta Car - Aoibhínn Murphy, Macroom, Co.Cork.
2nd Prize: €1500 - Catherine Lawton, Commons Road, Cork.
3rd Prize: €750 - Phil Glackin, Grange, Cork.
4th Prize: €500 - Ann-Marie Daly, Cobh, Co.Cork.
5th Prize: €250 - Josephine O Brien, Clonakilty, Co.Cork.
6th Prize: Lord Mayor's Prize - Stephen Smith, Midleton, Co.Cork.
7th Prize: Bishop's Prize - Monica Varian, Togher, Cork.