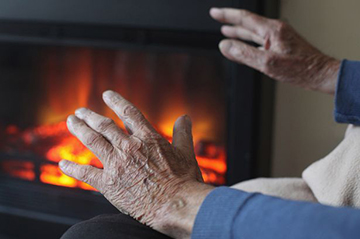 The decision to either pay a bill or heat their home is an increasing challenge being faced by more and more people in Ireland particularly as the weather worsens, says the Society of St. Vincent de Paul (SVP).
SVP urges people to watch out for older neighbours in particular those who may be living without sufficient heating.
The SVP, which spent over €10m in 2013 to help people with their energy bills, points to the recent CSO figures which show that 30.8% of those living below the income poverty line went without heating at some stage in the last year because they couldn't afford it. This is up from 25% in 2012.
Brendan Hennessy SVP Social Justice & Policy Officer said that while recent announcements of energy price reductions for Irish consumers are welcome, most consumers do not see the drop in international oil and gas costs cost reflected in these reductions.
"The Energy Regulator (CER) and Government need to explain to consumers how and why this is the case. "Now that CER no longer regulates prices SVP believes they should use their expertise to inform and protect customers." said Mr Hennessy.
"While consumers can seek to make savings by switching, this option is not available to many people assisted by SVP. This can be due to on-going arrears issues, lack of access to computers or the use of direct debit not suiting people on low income. Energy costs need to be examined and further investment made in thermal efficiency of housing and fuel supports." he said.