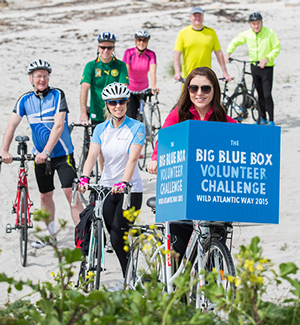 SVP would like to extend a huge thank you to Bank of Ireland staff and members of the local communities who travelled over 1,237 kilometres along the West Coast of Ireland as part of the The Big Blue Box Volunteer Challenge.
The Big Blue Box Volunteer Challenge finished up in Clifden last Friday the 19th of June. The event passed through the route of the Wild Atlantic way and involved communities across 35 towns – from Moville in Co. Donegal to Kinsale in Co. Cork. The cycle covered over 1,237 kilometres over 14 days. The unique fundraiser raised over €40,000 for SVP - with Bank of Ireland matching each euro raised in the local communities, bringing the total to over €80,000!
Inside the Big Blue Box was a symbolic item representing each town, area or community; something that each community would like to share with their neighbouring town.
President of SVP Geoff Meagher said: "This is a great initiative and very much aligned with the SVP ethos of providing support on a local basis by local volunteers. We would like to thank Bank of Ireland and its staff for choosing SVP as the recipients of funds raised during this initiative. SVP continues to receive many requests for help from families and individuals throughout the country and relies on campaigns such as the Big Blue Box Volunteer Challenge and public donations to enable us provide as much help as possible."