Over the next two weeks, Belfast city centre shoppers are being urged to support the Marks and Spencer Giving Tree to help local children in need have a happier Christmas.

The cross-community initiative, run by St Vincent de Paul and Belfast Central Mission, is back for its 17th year and gives members of the public an opportunity to pick a tag off the tree for a boy or a girl of a particular age and buy a gift for them which will then be distributed by the charities to families in the weeks leading up to Christmas.

Belfast's Lord Mayor, Alderman Brian Kingston was one of the first to participate and visited M&S to launch the project. "I am delighted to help launch such a worthy venture, particularly at this time of the year," he said. "The festive season allows us all to reflect on how we can help others, and make a difference through acts of kindness and generosity."

St Vincent de Paul and Belfast Central Mission have been involved in giving toy and food parcels to local children, families and older people in need for many years. With an increasing number of families coming to the charities for help in the run-up to Christmas, they approached M&S with the idea of having a 'Giving Tree' in the store. M&S immediately agreed and have now backed the initiative for 17 years.

Michael Sands, St Vincent de Paul's North Belfast Area Vice President explained: "We are so grateful to M&S and the public for their ongoing support of this initiative which we really rely on to meet the needs of local children. Sadly, more and more families are struggling financially and are coming to us for a bit of extra support, especially at this time of year when budgets are really stretched.

"Christmas should be such a happy time for everyone, but for many, affording the cost of heating their home, clothing their children and putting food on the table is already very difficult - add the stress of finding money for gifts and the situation soon becomes overwhelming. What may seem like quite a simple gesture to one person can really make a world of difference to another and we would really encourage as many people as possible to take part if they can."

Magdalena Zaluska-Pal from Belfast Central Mission said: "The Giving Tree is a very visible demonstration of people caring for others who are less fortunate. We are delighted to join once again with St Vincent De Paul, Marks & Spencer and the wider community to make a difference in the lives of many children. Every year we are humbled by the generosity of those who donate gifts and I would like to extend my personal thanks to everyone who makes a contribution."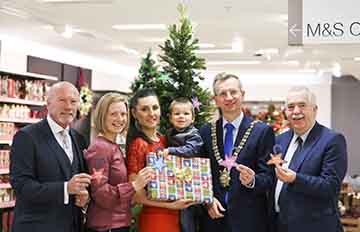 Colin McGreevy, M&S Belfast Store Manager added: "Marks & Spencer is delighted to be doing its bit to help promote this very worthwhile project which encompasses the true meaning of Christmas, reaching out to families who are really struggling in difficult times.

"We know our customers are particularly generous at this time of year and will be keen to offer their support so we're actively encouraging them to consider buying an extra gift to place under The Giving Tree that could bring a smile to someone less fortunate."

The Giving Tree will run from 28 November – 10 December and can be found on the second floor of M&S in Donegall Place, Belfast city centre. Shoppers choose a 'tag' for a boy or girl of a particular age and return the unwrapped gift, along with its tag, to the tree, where volunteers from both charities will be on-hand to answer any questions.

For more information on donating to or applying for help from the Giving Tree, please contact BCM on 9024 1917 or SVP on 9035 1561.