In-work poverty and growing child poverty key concerns for SVP
The Society of Saint Vincent de Paul (SVP) is calling for a minimum weekly adjustment of €27.50 in welfare rates in Budget 2024, in order to prevent an increase in poverty.
According to the Society, with €5.3bn (excluding €1.1bn tax package) available in Budget 2024, the Government has a unique opportunity to increase social welfare payments to a level which provides an minimum essential standard of living.
Launching its Pre-Budget Submission today (12 July) with a series of briefings for TDs and Senators, SVP says that for Budget 2024 the Government must protect more people from experiencing poverty and exclusion caused by the cost of living crisis, which is already exacerbating problems for those already struggling.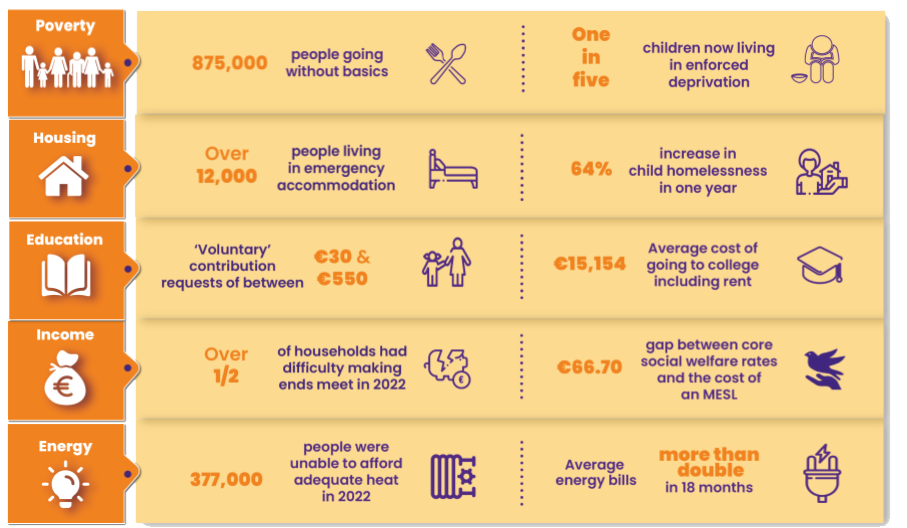 At the same time, it says we need to see progress on the structural issues like income inadequacy, low pay and underfunded public services that are trapping so many people in the  cycle of poverty. Already this year SVP offices have received over 100,000 requests for help from families who cannot afford life's basic essentials.
Entitled "Breaking the Cycle - Proposals for ending poverty in Ireland" the SVP Pre-Budget Submission has 36 specific requests over four areas;
Protect people's incomes and guarantee the essentials
Prioritise children in poverty
Promote access to good quality jobs
Prevent poverty through affordable and accessible services.
SVP recommendations
In addition to the call for a cost of living adjustment in welfare rates, some of the SVP requests are:
Introduce a cost of disability payment starting with a €40 weekly payment.
Increase the Fuel Allowance by €680.40 to restore its purchasing power and
extend the allowance to recipients of the Working Family Payment (WFP).
Increase HAP and Rent Supplement rates by 40% and provide funding of €5m
to address rent arrears for HAP tenants.
Deliver free school books at second level starting with a pilot in 2024.
End voluntary contributions by increasing the capitation grant to schools.
Invest to end long waiting times for psychological assessments for children and
expand mental health and wellbeing supports to young people in post-primary
education.
Provide free access to childcare for families with a medical card.
Increase the grant and income thresholds for SUSI by 15%.
Pilot a Housing First Model for families with complex needs.
 Increase the daily living allowance for asylum seekers.
Protection and supports
SVP Head of Social Justice Tricia Keilthy said, "We know our Government is capable of reversing rising rates of poverty and providing supports where they are needed if it chooses to do so. The design of our current system of supports is the result of a set of decisions about our society's priorities and resources. At SVP we see that too often, these choices have resulted in people trapped in poverty. During the pandemic the government chose to protect people's incomes with payments that kept families above the poverty line. We need this Budget to show the same commitment and redesign the system to work for everyone.
"The focus in the recent Summer Economic Statement on the need to protect low income households is welcome but a continuation of one off supports will not adequately relieve the pressure on those who were already struggling. The failure to increase social welfare payments in line with inflation puts many people at risk of being pulled further into the kind of grinding daily hardship that is very difficult to escape".
"Increasingly, we are seeing that work is not always a route out of poverty for families we are supporting. Budget 2024 has the potential to change this. Access and participation in employment relies on the strength of services such as childcare, public transport and in-work income supports, as well as decent wages and conditions."
She also said that "the new Child Poverty and Well-Being Unit in the Department of An Taoiseach presents the opportunity for a coordinated and cross-departmental approach to end child poverty. "Children and their families must be front and centre in Budget 2024. This must be the first step in a wider strategy to support families and break the cycle of disadvantage for children."
Cost of living crisis
Rose McGowan, SVP National President said; "We have seen the positive impact of Government supports through the cost of living crisis. But they are sticking plasters for long term and deeper issues. Even before this crisis, people were battling a rising tide of high rents, growing bills, educational disadvantage, and often juggling health conditions, work and caring responsibilities''.
"Rising child poverty remains a significant concern for our Members. Almost 70% of the 230,000 calls we received last year were from households with children. We know all too well that children living in poverty are more likely to have poor educational outcomes, and risk becoming early school leavers who will face the prospect of living out their lives excluded and unable to fulfil their potential".
The full SVP Pre-Budget Submission can be found at www.svp.ie/pbs2024