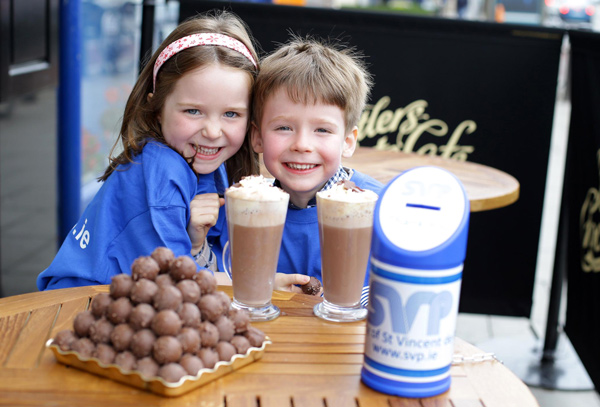 For the third year running, Butlers Chocolates are holding 'Butlers Cup for SVP' in aid of St. Vincent de Paul.
The charity initiative will take place this Tuesday 19th May 2015 and will see all Butlers Chocolate Cafés in Ireland donate sales from hot drinks sold in any of their 18 Cafés to SVP.
After last year's huge success, Ireland's leading chocolatiers hope to raise over €20,000 of much needed funds to help fight poverty through food, fuel and education.
Speaking about the "Butlers Cup for SVP", Chairman of Butlers Chocolates, Mairead Sorensen comments, "We are delighted to announce that the Butlers Cup for SVP is happening again this year. St. Vincent de Paul helps so many people in Irish society and we look forward to raising money and helping them in their efforts again".
Commenting on the event, Geoff Meagher, SVP National President expressed his appreciation, "This initiative is so important in helping us provide assistance for all those who seek our help and support. We rely heavily on both public donations and fund-raising activities in order to help the many people who continue to struggle to maintain a basic standard of living. We thank Butlers Chocolates once again for organising this day and urge the public to support this event." The Society of St. Vincent de Paul is the largest, voluntary, charitable organisation in Ireland which seeks to tackle poverty in all its forms through the provision of practical assistance to those in need. The 'Butlers Cup for SVP' initiative aims to help the Society to help even more people in need.
Butlers Cup for St Vincent De Paul will take place for one day this Tuesday 19th May 2015 in Butlers Chocolate Cafés throughout opening hours.