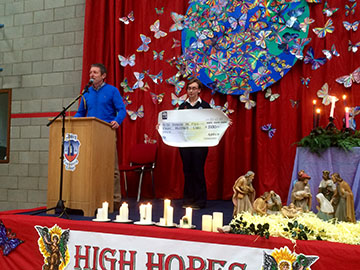 The Justice Group in Abbey Community College is currently working on the issue of homelessness in Ireland. On Friday, December 18, they hosted a concert with the High Hopes Choir and the Island of Ireland Peace Choir in the Edmund Rice Chapel, which was a huge success. But their fundraising didn't stop there they also went carol Singing to fund raise for St. Vincent de Paul in Red Square/The Mall.
In the school premises they ran a "Giving Tree" where all the students and teachers bought a present of €10 approx which were then all presented to the local branch of St Vincent de Paul.
Finally, on Dec. 21st, the School Council held a "Have an Abbey Christmas" day where every member of the school was invited to wear a Christmas accessory and bring in a donation of €2 to SVP. "It brightened up our corridors that day too!" said one of the students.
SVP Waterford received the toys just in time to help Santa with all his deliveries and SVP was over the moon with them. Both SVP Waterford and the High Hopes choir received cheques for €800, amazing from a school. "The service was fantastic and one girl even wrote a song for the occasion. A privilege to attend" said Waterford Area President, Michael Curran.