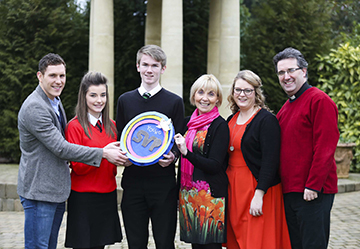 More than 350 pupils showcase their SVP Youth projects
'Positivity and hope' was the theme of the day when more than 350 students from almost 20 schools across Northern Ireland converged on the Tullyglass Hotel in Ballymena this week to celebrate and showcase the projects they had completed in 2014 as part of the St Vincent de Paul (SVP) Youth programme.
The programme, which aims to expand on the work of the charity and encourage young people to be responsible members of society, involves 13-18 year olds initiating and undertaking special social projects. These ranged from introducing Year 8 pupil befriending schemes and establishing homework clubs to visiting the elderly, organising fundraising activities and setting up food hamper collections for those in need.
SVP is a cross-community charitable organisation helping families and individuals in need across Northern Ireland, while the youth wing of the charity works with schools and groups to help develop social awareness as young people develop into adults.
This ethos was emphasised by guest speaker at the event, John McAreavey from the Michaela Foundation, who told pupils about the importance of volunteering and contributing positively to their community.
"Volunteering is not just about giving but is a win-win situation for young people," he said. "It can help them to develop very important skills such as increasing self-confidence and developing integrity. This can be really beneficial when it comes to going to university and starting a new job, as they will find it is much easier to meet people and are more likely to thrive in new situations. It is also very rewarding – you will never experience the same sense of joy and fulfilment as you do by reaching out and feeling that you are really helping people.
He added: "Forming the Michaela Foundation has really helped me and has transformed my life. Now I know I am making a difference and I would encourage young people to reach out to charities such as SVP and to get involved in their communities to improve the lives of others."
Claire Morgan, Youth Co-Ordinator for SVP explained: "We hear so many negative stories in the news about young people but this event proves that there are so many inspiring pupils doing great things and who regularly share their time, talents and energy to make a difference in the lives of other people.
"As a former teacher I know the innovative ideas that young people have and the contributions they can make to society. The purpose of the SVP Youth Programme is to harness this and encourage young people to make a difference while giving them a platform to help people in their community.
"This event is our way of thanking the students for their hard work and recognising their effort. It is also a great way for students to meet other like-minded people from different schools and to inspire each other with their various projects. The day was an interactive programme, which included 'A Celebration of the Youth', where each of our schools displayed posters, photographs, and examples of all the work they have been involved in. Undertaking these projects helped to bring the issues that are on our very doorsteps directly to our youth in an engaging, interesting way, which should, hopefully, inspire more of them to be proactive in their local communities going forward.
"The Youth Programme also supports and helps pupils with their school work in the subject areas of Learning for Life and Work and Religious Studies. Instead of just reading about issues and writing about how to tackle them, we bring the curriculum to life and offer pupils the chance to have a real 'hands-on' experience of positively contributing to the areas where they live."
At the Annual Youth Conference, the charity called for more schools and young people, across all denominations, to become involved with SVP.
Claire added: "St Vincent de Paul helps people from all backgrounds and has a presence in every town, city and village in Northern Ireland. The charity simply could not function without volunteers and we would really welcome more young people, with their fresh ideas and unbounded enthusiasm, to get involved with the charity through our Youth Programme. If a young person introduces volunteering into their lives at an early stage then that can only be good for future society.
"We want young people to see too that they are also the future of the charity, so it is vital that we give them a voice and a place now. Becoming involved with SVP Youth can also be very rewarding and beneficial for the individual. For example, as well as getting a great sense of achievement by knowing that you are truly helping people, it can also be a very worthy activity to put on CVs and UCAS forms as SVP is an international charity recognised widely around the world," she added.
SVP has more than 1600 volunteers on the ground who make more than 2000 visits a week to the homes of local people right across Northern Ireland offering practical help and support, as well as running breakfast clubs, crèches, afterschool clubs and 30 charity shops across the province.