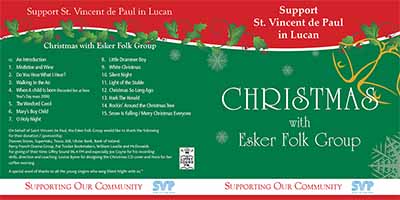 Under the helpful and watchful eye and recording hands of Joe Coyne from Liffey Sound 96.4 FM Esker Folk Group have recorded a Christmas Album which will be launching on 29th November with all proceeds going to SVP Lucan.
The album consists of different flavors of genre and "texture interpretation" commonly used in the folk group. The group have noticed a steady punctuation of followers from different parts of the globe since they started the project. The CD, they feel, would be a nice stocking filler for your loved ones both at home and abroad while at the same time supporting a good cause.
The Folk Group was formed more than 30 years ago and has seen many changes through the years from practicing each Sunday huddled in the cold and rain in the school yard before the 12 O Clock mass in the prefab to practicing in the pleasant surroundings of the present church of Esker. The group continue to sing at the 12 O Clock mass in St Patrick's Church Lucan every Sunday. One of their main focuses is to encourage both adults and children alike to enjoy and participate in the mass and where possible to join them in song.
CD Price €10 Contact Dave in Esker Folk Group for more information 087 7867781