The St Vincent de Paul (SVP) and the Salvation Army has kicked off its annual Christmas Family Appeal with the help of Northern Ireland football manager, Michael O'Neill MBE. Running until 18 December, the Family Appeal is aiming to provide 100,000 children who live in poverty in Northern Ireland with a present to open this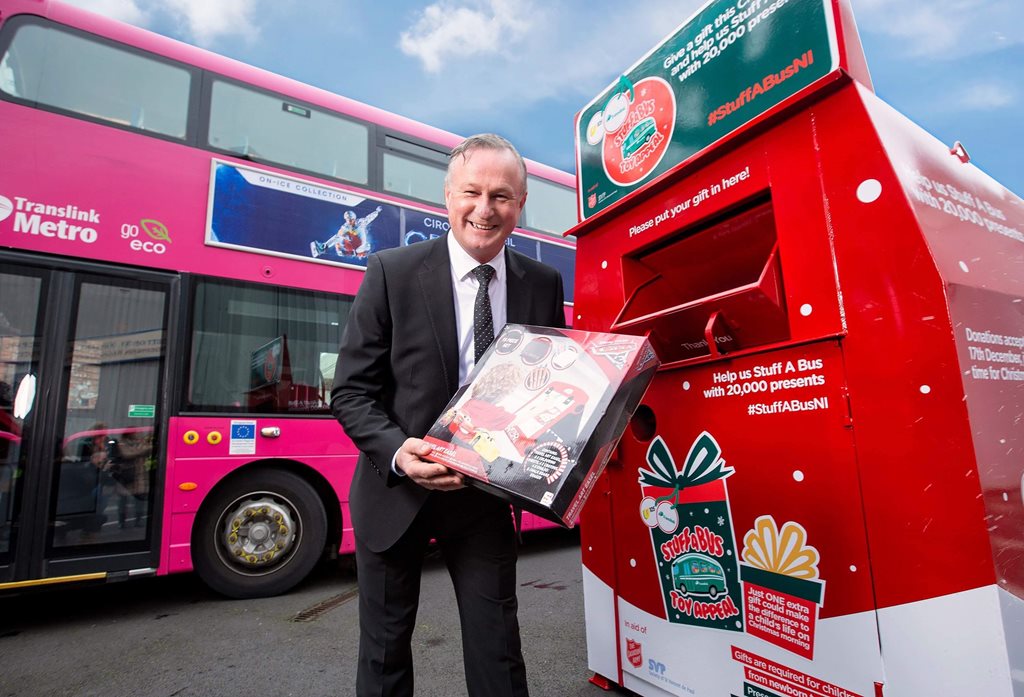 Christmas. The charities are joined by Translink and U105 as they continue to support the Family Appeal through the 'Stuff A Bus' initiative.

Michael O'Neill MBE said: "I'm delighted to be here today and to support the Family Appeal and Stuff A Bus. It's a simple initiative with a fantastic impact. If you are able to donate a gift, The Salvation Army and St Vincent de Paul will distribute these to truly transform Christmas morning for kids and families across Northern Ireland who unfortunately wouldn't have much otherwise."
The 'Stuff A Bus' Toy Appeal, now in its third year, needs the support from the public to help stuff a double decker bus with more than 20,000 presents. Purchasing just one extra gift could make a difference to a child's life on Christmas morning.

Drop off points are located in Translink stations across Northern Ireland and donations can also be left at the Visit Belfast Welcome Centre in Belfast city centre.

Major Paul Kingscott, the Salvation Army's divisional leader, said: "As a church and charity, we are inspired by the Christmas message to reach out to people in need. The Family Appeal allows us to help thousands of children and young people in Northern Ireland. Last year alone more than 50,000 gifts were distributed to families in need locally. The Salvation Army and SVP are hoping that this year's annual festive appeal, now in its 40th year, will be the biggest ever, helping even more people in need this Christmas."

Frankie McClure, Regional President North Region for St Vincent de Paul, said: "The effects of poverty don't stop just because it's Christmas, they endure throughout the year. This Appeal means so much to the families and groups who receive our donations of gifts as they are seeing smiles on little ones' faces on Christmas Day rather than tears and anguish, which is felt ten-fold by the parents who are unable to provide for their children. It is wonderful to have such supportive partners in Translink and U105 and we are grateful for their enthusiasm for the Appeal and hope that the double decker is jam-packed with presents as part of the 'Stuff A Bus' element of the campaign."

Toy banks have been placed in 18 Translink facilities across the province. Gordon Milligan, Deputy Chief Executive, Translink, said: "Translink first launched the Stuff A Bus Toy Appeal in 2017 to support these two wonderful charities. Over the past two years we have stuffed buses with more than 35,000 gifts for young people right across Northern Ireland. We're very proud of this Appeal and we're calling on our customers, staff and the wider public to get behind us again this year. Toy collection banks are now located at all our main stations so please help us stuff a bus full of 20,000 gifts before the December 18th."
All gifts must be new and unwrapped. Gifts can be left at drop off points until 17 December. For more information on donation points visit www.translink.co.uk/christmas. Appeal media partner is U105. Join in the conversation online using #StuffABusNI
Groups wishing to apply for support from the Appeal must do so by 30 November 2019, while individuals have until 14 December.