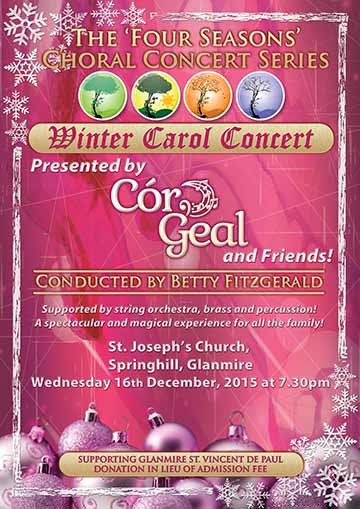 Each year the members of Cor Geal and the Whitechurh Christmas Choir rally togther and collect food for Cork SVP. The choir are delighted to do this, as well as presenting beautiful music during the festive season.
Cór Geal and Friends will perform a Winter Carol Concert at St. Josephs Church, Springhill, Glanmire, on Wednesday the 16th December at 7.30pm, where the choir will be supported by string orchestra, brass and percussion.
It promises to be a spectacular and magical experience for all the family. The proceeds from the evening are in support of Glanmire SVP.
If you miss the Winter Carol Concert on the 16th December – Cór Geal and the Whitechurch Christmas Choir will present two Carol Services at St. Patricks Church in Whitechurch on Sunday the 20th December at 5pm and again at 7.30pm (sharp).
All proceeds are going to a local family where both parents are critically ill.