By Eamonn Donaghy, Belfast Conference
Over the last few years the Camino de Santiago (the Way of St James) has become increasingly popular for people who wish to take some time out and travel from various points in Europe to Santiago de Compostela, a city in the north east of Spain. Having said that, this pilgrim's journey to visit the believed burial place of St James the apostle has been on the go since before 1000 AD, so it's not exactly a new phenomenon!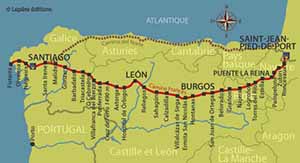 After many years of thinking about making this journey, the opportunity arose this autumn for me to actually do it. So in September, I joined my old school friend Damian to cycle from Pamplona to Santiago de Compostela along the Camino Frances. We allotted 10 days to make this trip, which, given that it was almost 750 km's in distance, was in itself quite a challenge for a couple of guys who were not 'seasoned' cyclists. But the Camino is not meant to be easy or a relaxing vacation. It is a journey, a way and a pilgrimage. So whether by foot, bicycle or horse, it is a challenge to make it to Santiago.
As a relatively new member of St Vincent de Paul, I decided to use the opportunity to try and raise funds for my local Conference. I set a target of £1 for every kilometer we cycled. I underestimated the generosity of my family and friends and whilst the final figure is still outstanding, it looks as if donations will amount to over £3,000. For this reason alone my Camino has been worth it.
We set off from the city of Pamplona, famous for the annual running of the bulls through its narrow streets and headed west along a mix of main roads, country lanes and paths. We could not follow the exact Camino route all the time as often is became a mountain track, which was not welcoming to touring bikes with panniers but we stayed as close as we could to the main trail.
We aimed to stop at the main cities along the way including Logroño, Burgos and Leon. This then allowed us to do some sightseeing in these wonderful old cities. Each one had its own character but they all had an 'old town' centre and a great sense of history. For me the highlights were the cathedrals in Burgos and Leon. The former was a magnificent complex of chapels and cloisters which were ornate and resplendent and the later was more austere but had a magnificent organ and fabulous stain glass windows. It you like old cathedrals you will love Burgos and Leon.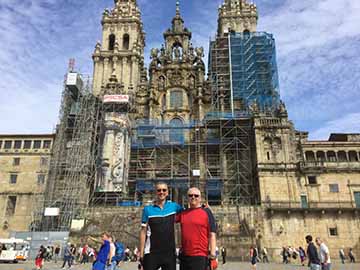 Our cycling was quite intense with lots of hills and even a couple of mountains to cross. Not only did we cycle nearly 740 km's but we climbed over 25,000 feet along the way! Let's say that it was not always the easiest of journeys. Thankfully we had no punctures or crashes and our equipment, legs and backsides stood up to the challenge.
We met quite a lot of people along the way from all parts of the world including Australia, Canada, the United States and nearly every country in Europe. Almost everyone was friendly and we all shared the common goal of making it to Santiago. By custom you greet each person you meet with the phrase ' buen camino' which means ' 'have a good Camino' and it was the common currency of our trip.
We had planned to complete our cycling in 10 days but as we approached our destination, we were gripped with a zeal to conclude the trip as soon as possible so we made it into the centre of Santiago after nine days! When we finally got off our bikes in the large square at the front of the famous old cathedral of Santiago, there were a few whoops of delight and a large smile on both our faces. We had made it to our journey's end.
Our early arrival gave us a 'free' day in Santiago and enabled us to go to the Pilgrims Mass in the cathedral, embrace the statue of St James and to do some sightseeing around this lovely old city. Mind you after our exertions of the Camino we did not do too much walking!
So now I need to take some time to reflect in my Camino. Nine days of tough cycling, living out of panniers, being away from my wife, children and home. It has certainly been a very significant experience for me. However I don't think that I had an epiphany along the way or that I have discovered myself. Having said that I have a lot of sights, sounds and memories to reflect on and I think these will have a longer term impact than I am experiencing now.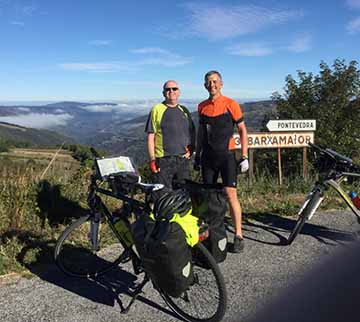 I would definitely recommend the Camino to anyone, young or old. It can be done all together or in stages, by foot, by bike or even by horse!
You get a chance to get away from the world and focus on the things that matter most to you. Whilst it may not result in a life changing experience, it will allow you to look at life in a different way.
If you do decide to give it a go then I wish you a 'Buen Camino'.