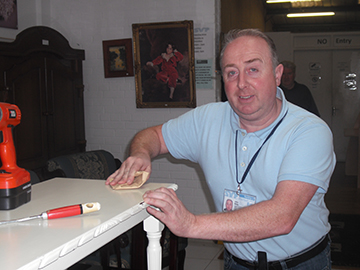 How to give older pieces of furniture a new lease of life is the aim of a fun workshop in Navan this Saturday (Oct. 11th).
The free chalk painting demonstration, which will give some useful tips on how to brighten up a home, takes place at 12 noon in the "Vincent's" Furniture and Curiosity Shop at Balmoral Industrial Estate, Kells Road.
The event at the Navan St. Vincent de Paul Society (SVP) venue will feature the expertise of Sinead from Hint of Vintage Interiors, a professional upgrader of furniture, who will advise on the re-decoration of used pieces.

The local SVP's Kells Road outlet has a wide range of good quality furniture and bric-a-brac for sale and donations of suitable items will be collected free of charge, while a delivery service is also available. Its seven-day-a-week opening hours are 10 a.m. to 5 p.m.
(PHOTO: John Reilly of Navan SVP's St. Francis Special Works Conference prepares a table for the coming chalk painting demonstration)
All money raised through sales helps the needy in the Navan area.