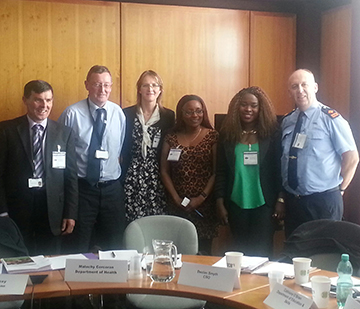 Galway-Mayo project SOLAS (Support, Orientation and Learning for Asylum Seekers) was selected to present it's policy submission to the Cross Departmental Group on Integration at the Department of Justice.
The SOLAS project was developed under a tri-partite partnership of Mayo Intercultural Action, Croí na Gaillimhe/SVP, and the Health Services Executive West. As a result of this partnership a regional support structure has been established across Mayo and Galway to address the many varied needs of persons in the asylum process. The SOLAS project received 12 month funding under the European Refugee Fund to carry out its work plan.
The SOLAS project's policy submission highlights the detrimental impact that long stays in Direct Provision have on Asylum Seekers ability to integrate. The issues for Asylum Seekers in terms of integration are multi-fold. Firstly while in the asylum process Asylum Seekers are physically segregated from the majority community in Direct Provision Centres, in some cases for up to a decade. During their time in the asylum process they are unable to engage in employment which is the cornerstone of integration. Furthermore Asylum Seekers and their children are further excluded from community integration by a process of financial exclusion. Asylum seekers receive an allowance of €19.10 per adult and €9.60 per child. Children in the Asylum process including those born in Ireland are precluded from receiving Child Benefit due to their parents status as Asylum Seekers. Representatives from the Asylum community, both past and present highlighted these issues on behalf of the SOLAS project at the Cross Departmental group's meeting in Hanover Street, Dublin on the 08th September 2014.
If you require further information on the SOLAS project's integration submission or information on the work of the SOLAS project, you can contact Suzanne McKane (SOLAS Galway Project Worker) by email at smckanesolas@gmail.com or by telephone at 091- 895203/086-4053602 or Patricia Luby (SOLAS project Co-Ordinator) by email at patricia_luby@yahoo.com by telephone on 094 9044511/086-0406134.
For more information contact
Loretta Needham 091 895203
Email: lorettaneedham@gmail.com