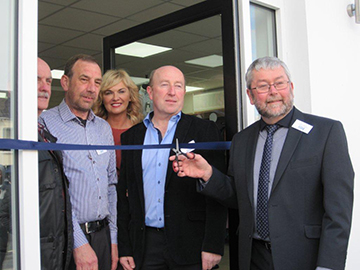 This week saw the unveiling of the transformed St Vincent de Paul shop, Vincent's, on Loy Street in Cookstown. After 10 months of extensive refurbishment, the 'Grand Opening' took place this week when more than 400 people from the community came out to celebrate and see the facilities on offer.
The 'Vincent's' shop is now unrecognisable and would give any high street store a run for its money. With a bright, spacious interior, the store offers something for everyone. The ladies, men's and children's departments are clearly laid out with colourful stock, both new and pre-loved. There is also an ample selection of accessories including shoes and handbags with many bargain designer gems on offer.
John Meenan, chairman of the local SVP shop committee explained: "We could not be happier with how the shop has turned out and going by the reaction of those who were there at the grand opening, I think the public will be extremely impressed with the new shopping experience offered by Vincent's!
"What is different about the shop is that although it might look like a stylish boutique, the prices certainly do not reflect that. The main theme running throughout the outlet is 'value for money' and central to the St Vincent de Paul ethos, the shop remains a place for the local community to pick up affordable goods that they may not be able to get elsewhere. To meet local demand for cheaper furniture and white goods, there is also a newly built 'home' showroom with everything for the household from beds and sofas to washing machines and children's toys.
"Another important aspect to the St Vincent de Paul shops is the social opportunities they offer. To enhance this we have opened it up to be more inviting to people to come in and enjoy the company of our friendly volunteers. We have therefore included a coffee machine and a small seating area in store, which will be a great place to catch-up with others in the community. We would welcome everyone to call in and take a look around and can't wait to see the reaction of our regulars as well as many new faces."
Denis Loughrey, president of St Vincent de Paul in Cookstown added: "The support shown to SVP from the local community has really been outstanding and I would like to take this opportunity to thank everyone who came along to the opening and to those who have worked so hard to get us where we are today.
"The new 'Vincent's' facility is much more than just a state-of-the-art charity shop. It is a real community hub, which is open for use by all and an exciting new development for St Vincent de Paul. As our work is fully-funded by donations and delivered by volunteers, our shops are an essential stream of income for the charity so this improvement will allow us to expand our much-needed services further in the area."
SVP is also looking for new volunteers of all ages to help out in the shop. "If anyone has a few spare hours every month that they would like to put to good use, we would love to hear from you!" said Denis. "We welcome volunteers from all sections of the community and age and experience need not be barriers as we have a range of roles available with full training provided. For a young person this could be a great achievement to put on a CV or UCAS form and valuable experience for anyone hoping for a future job in retail."
SVP works to help alleviate and combat poverty across Northern Ireland with the vital services delivered by more than 1600 volunteers. Through Conferences (groups), the Society provides assistance to all sections of the community and offers practical, material and moral support as well as friendship to families and individuals in need.
The Vincent's shop will be open Monday to Friday 9am to 4pm and Saturday 10am to 3pm.
To find out more about St Vincent de Paul in Cookstown, volunteering in the new Vincent's facility or if you in need of assistance, please call Denis Loughrey on 028 86769400 or visit www.svp-ni.co.uk.