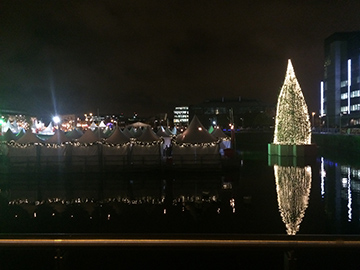 The lights of the Christmas Tree at Custom House Quarter (CHQ) in Dublin's Dockland were turned-on last night by the Lord Mayor of Dublin, Críona Ní Dhálaigh and the I BELIEVE Christmas Market in CHQ was opened.
I BELIEVE will run for 28 days in the lead-up to Christmas from Thursday, 26th November until Wednesday, 23rd December. Seven charities, including SVP, will benefit from bucket collections and a percentage of merchandising sold at the market.
With charity at its roots, I BELIEVE will become an area for Irish Charities including St Vincent de Paul to build awareness and fundraise.
Please Support SVP if you can!
For more information visit the I BELIEVE website