SVP says that a suite of measures needed to prevent disconnection on pre-pay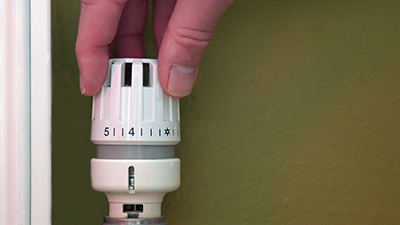 The Society of St Vincent de Paul (SVP) says that it welcomes the commitment from Government to prevent pre-pay disconnections this winter but says a suite of measures must be implemented to achieve this. 
Many people SVP assist prefer pre-pay gas and electricity as it gives them more control over their expenditure and gives people better piece of mind in many cases. However, SVP says that with the cost of energy increasing so significantly many people are struggling to keep their meters topped up.
Issy Petrie, SVP Research and Policy Officer said; "We are very concerned about customers self-disconnecting or severely rationing energy over long periods this winter and we are particularly worried about gas pre-pay customers. Over the summer months when people haven't been turning on the heating, they are still clocking up standing charges, and these charges will be deducted when they top-up again. These meters won't receive the benefit of the energy credit which will go to electricity meters. The technology of gas meters is typically older which means remote top-ups aren't possible, this means people using gas prepay meters are more vulnerable in an emergency situation. 
"It is crucial that everything that can be done is done - and consistently - to protect people from hardship. There are elements and examples of innovation and good practice from suppliers and many of the new measures introduced by the Regulator are welcome, but support and protections need to reach everyone. Importantly, we need to see Government take a leading role to support customers at risk this winter".  
SVP says the proposal to extend emergency credit and "friendly credit" hours (friendly credit prevents disconnections at weekends and bank holidays) may help in the short term but could put people in a more vulnerable position in the longer term. This is due to the fact that the way the electricity and gas pre-pay meters are set mean people have to pay emergency and friendly credit back before they can access these functions again, potentially leaving people without heat and power for longer. This creates a situation where they have no safety net and it also means a significant proportion of their next top up will go to emergency credit debt, extending the risk even further.
SVP proposals include:
        *  Instruct suppliers to provide discretionary payments to electricity pre-pay meters remotely so that customers can remain on supply when they are at risk of disconnection. Some companies are already doing this, but it should be mandated by the CRU and Government across all suppliers.
        *  Given the limitation with gas pre-pay meters for remote top-up, SVP propose that the emergency credit function is converted into a waived credit. This should be explored in consultation with Gas Networks Ireland. This extra credit should be Government subsidised in recognition of the extra vulnerability of this group. 
       *  Government and the CRU must mandate suppliers to write to their pre-pay customers to signpost them to supports and advice to prevent regular disconnection. 
       *  Suppliers should temporarily reduce the standing charge from pre-pay meters to free up usage on the meter. More broadly, SVP is calling on the CRU to  play a more active role in regulating standing charges, including for bill pay customers. 
       *   In April, SVP called to end the "poverty premium" on pre-pay meters and put customers on the cheapest tariff available. This has been actioned by the Regulator and SVP are continuing to advocate that low-income customers get the best deals available. 
       *   Suppliers should always undertake an assessment as to whether the installation of a pre-pay meter is safe and appropriate for the personal circumstances of a customer.
        *  "Lifestyle" meter (meter chosen by customer with a preference for pre-pay) suppliers should offer "hardship" meter (meter installed as a mechanism to pay back debt) rates by removing the pre-pay service charge to customers in financial difficulty. 
        *  Government must ensure the Additional Needs Payment is accessible and claims for energy are processed quickly.  Additional resources for frontline services must be provided to ensure this.
SVP has also said that the lump sum social welfare payments, while welcome, will be wiped out quickly by rising costs. Research and analysis from the Vincentian MESL Research Centre show the purchasing power of the Fuel Allowance will be reduced by €300 next year. 
Dr. Tricia Keilthy, SVP Head of Social Justice said; "While once off payments will help people in the short term, and are reassuring for the beginning of winter, from the new year people have been left with no certainty they will be able to meet costs. One of the best and most effective things Government can do to ensure people can keep the heat and the lights on is to amend the Social Welfare Bill to address the failure to increase rates in line with inflation. It is also vital adequate supports for one parent families, who were overlooked in Budget 2023, are provided. These families have very high rates of poverty, are more likely to use prepay, and we are very concerned about their welfare heading into this winter."