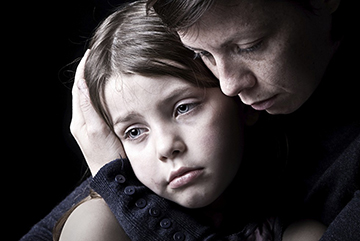 Many one-parent families will be hit hard financially when the next stage of the Government's One Parent Family Reform programme is implemented at the beginning of next month, says the Society of St Vincent de Paul (SVP).
From 2nd July, families who receive One-Parent Family payments (OFP), where their youngest child reaches 7 years of age, will cease to get this payment and will be placed on a Jobseekers Allowance Transitional payment (JST) until their youngest child reaches 14 years, and then the mainstream Jobseekers Allowance until their youngest child reaches 18 years.
"The impact of this measure will be most keenly felt by heads of one-parent families who are in low paid employment, who will see their income reduce significantly." says SVP.
Since 2012 around 11,000 lone parents have been moved from OFP to JST and in addition the earnings disregard which made work pay for working OPF recipients was €130 per week in 2012, but is now €90 under OFP. The earnings disregard is now €60 under JST and Jobseekers Allowance. "The weekly income loss for some working lone parents has been huge – up to €200 in some cases." said SVP
John-Mark McCafferty, SVP Head of Social Justice and Policy says, "This level of financial loss is a major worry for many parents and will make it impossible for some lone parents to stay in employment. This is due to a number of things the high cost of childcare which many face; the lack of after-school care given that children over 7 years are all in the school going cohort; and the reductions in the earning disregard that had supported one parent families in making better lives for their families, which has been Government policy since 2012.
"Our research – entitled 'It's the Hardest Job in the World' - has found that it is now more difficult for lone parents with low earnings potential and high levels of caring responsibilities to access employment, education or training and this undermines Government's own policies of addressing unemployment and joblessness in disadvantaged households, and reducing child poverty.
"This latest implementation phase of the Government reform is causing considerable confusion and fear among many lone parents who approach SVP for support. They are already facing many difficulties in areas such as balancing parenting and employment, affordable childcare and avoiding poverty traps that arise in the move toward employment.
"We have been expressing our concern about the implementation of the Government Reform policy for a number of years. When the policy was launched in 2006 it was in the context of almost full employment. The economic environment in recent years coupled with budgetary austerity, of which policy specifically targeted lone parents, has changed the circumstances of many one-parent families. They are one of the groups that have been hardest hit by the recession and the austerity measures that have followed. They are also the group with the highest rates of poverty in Ireland.
The latest edition of the SVP 'PolicyLinks' entitled 'Supporting Pathways to Parental Employment for one Parent Families in Ireland' includes a summary of a recent expert policy roundtable organized by the Society. The roundtable focused on the design and implementation of employment and education supports for lone parents.
'PolicyLinks' says that Government must
Develop an integrated income and employment supports policy that addresses the specific circumstances of one-parent families.
Fund a real increase in affordable, quality early childhood care and education and afterschool care places that exhibit quality practice.
Invest in training and education for lone parents.
"In order to encourage more lone parents to take up or increase their hours of paid employment we need an economy that has an adequate supply of quality employment opportunities, and we also should provide the necessary employment and educational supports for people who are parenting alone." says SVP