Mrs. Brown's Boys Cookies from East Coast Bakehouse go on sales in Dublin Pop-Up shop
-----------
Proceeds from the sale go to SVP
7 December 2021.......A unique fundraiser in aid of the Society of St Vincent de Paul was launched in Dublin today by Brendan O'Carroll (AKA Mrs. Brown) and his wife Jenny.
The fund-raiser was launched at a pop-up shop in Dublin's St Stephen's Green where Mrs. Brown's Boys Cookies made by the East Coast Bakehouse in Drogheda will be on sale during next week.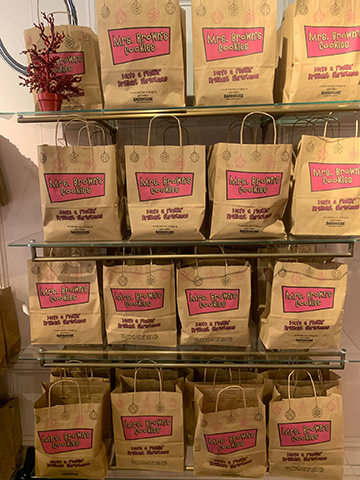 The pop-up shop at 3 St Stephen's Green, close to Grafton Street, will be open 10am to 4pm every day until Thursday 23rd December and from 10am until 1pm on Christmas Eve. The shop which will be staffed by SVP volunteers will sell an exclusive 4pack of Mrs. Brown's Boys cookies for €10. All the money raised from the sale of these 4 packs will go to SVP.
Members of the Mrs Brown's Boys cast will also be dropping in throughout the week. On Tuesday 21st Fiona O'Carroll (Maria) and Eilish O'Carroll (Winnie) will be there from 3pm to 5pm and on Thursday 23rd it will be the turn of Paddy Houlihan (Dermot), Derek Reddin (Dr Flynn) and Dermot O'Neill (Grandad) who will be there from 1pm-3pm.
Michael Carey of East Coast Bakehouse said that the company and its staff were delighted to be able to use their expertise in baking the highest quality biscuits for the benefit of one of Ireland's most respected charities. "Purchasing Mrs. Brown's Boys cookies in the pop-Up shop will not only allow people make a significant donation to SVP but will also be bring home a tasty treat for the family" .
Speaking at the launch Brendan O'Carroll said, "East Coast Bakehouse has done a wonderful job in producing these biscuits. I promise the Chef Aly recipe has made them the tastiest biscuits I have ever tasted and we are delighted to use this launch to raise funds for St Vincent de Paul and to highlight the plight of those who are in need. It is going to be a great week".
Rose McGowan, National President of St Vincent de Paul said that initiative like this bringing together an exceptional Irish company and Mrs. Brown's Boys, one of the country's national treasures, is an inspired way to help the Society in its work. "We need the support of the Irish public more than ever this year as calls for help has reached record numbers.
The only criteria we have for supporting people is need. For the many thousand who come to us that need can last for days, weeks or years while they struggle to bring their life and standard of living to a level that we should all expect.
"We are grateful to East Coast Bakehouse, to Mrs. Brown's Boys and all those who have ensured this project came to fruition. I am asking everyone to come and visit this shop and make their generous initiative worthwhile as well as increasing the ability of our volunteers to support those in need."
Support for this project also came from: Aviva, BNP Paribas Real Estate, Ketchup Design , Lisney, McGowans and Zeus.