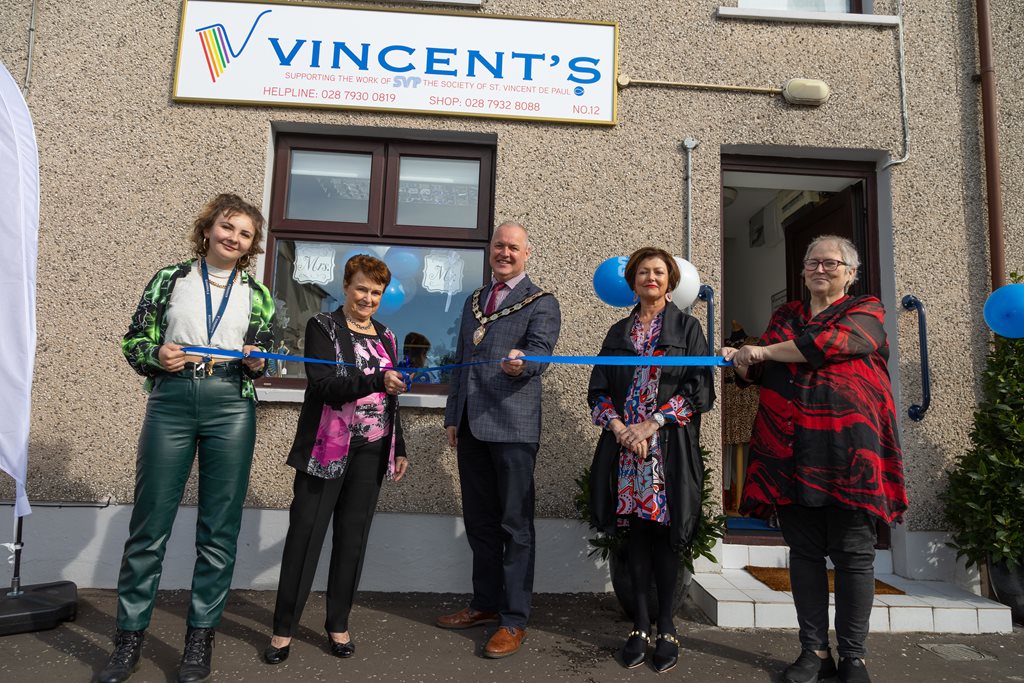 Vincent's on Magherafelt's King Street has been officially opened by Chair of Mid Ulster District Council Councillor Paul McLean. In its newly relocated premises, customers can browse the latest in Vincent's treasures from fashion to accessories.
Chair of Mid Ulster District Council, Councillor Paul McLean, said, "I would like to congratulate Peggy McLernon and all the staff and volunteers involved in bringing this new Magherafelt store to fruition. I extend my thanks also for the remarkable work they carry out as part of St Vincent de Paul in general, and for the immeasurable contribution they make to the local communities in which they serve.
"Almost 1,800 dedicated volunteers work tirelessly within the Society to help those in need, including the most vulnerable in our communities. I have no doubt that this new store will be a welcome addition to the already impressive St Vincent de Paul offering, and will be hugely popular with the people of Magherafelt and even further afield."
Brendan McKernan, Chair of St Vincent de Paul, Retail Committee said: "We have been working for some time to renovate the premises owned by the Society on King Street, to provide the local community with a hub for browsing the latest fashions and for connecting with each other. This new location for Vincent's is thanks in no small part to our member and former Conference President, Peggy McLernon, who was instrumental in SVP purchasing the building and organising fundraisers to refurbish it, as she had great vision for what it could become.
"Previously used for SVP meetings, and after unsuccessfully applying for planning permission for the shop, a second application was granted and P&A Contracts did a fantastic job in completing the refurbishment.

"The relocation of Vincent's is already proving to be a hit with local fashionistas in Magherafelt as sales have increased compared to those achieved in the former premises and we would encourage anyone who has yet to visit the shop to call in and see our staff and volunteers who will make you most welcome and help you find the perfect outfit."
The Society of St Vincent de Paul (SVP) is an international charity and the largest voluntary charity in Ireland. SVP members in Northern Ireland work in all communities to support people whatever their background, who are experiencing poverty and social exclusion, promoting self-sufficiency and working for social justice.
Every year SVP spends approximately £3 million to help those experiencing poverty in Northern Ireland. Last year, SVP responded to tens of thousands of calls for assistance from members of the public.
If you would like more information about becoming a member of SVP, becoming a volunteer in your local Vincent's shop or if you would like the Society's help, please visit www.svpni.co.uk, email info@svpni.co.uk or tel 028 9035 1561.
Follow Vincent's on facebook for all the latest Vincent's treasures at:  https://www.facebook.com/SVPVincentsNorthernRegion/.