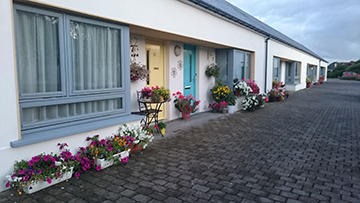 The area of Seabury where St Benedict's is located has a community-cleaning group. "We at St Benedict's contribute to this in that we keep our surroundings well presented and two residents in particular maintain the flower bed outside of the scheme. I have encouraged the residents to develop the schemes garden areas to enhance their surroundings" says Pamela, the Schemes Manager.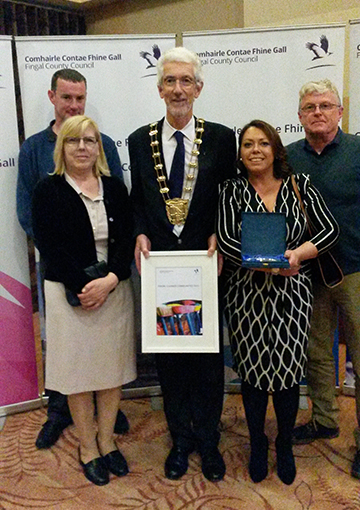 There were already quite a few who are exceptional gardeners and they also got a new group of gardeners from the Daughters of Charity daughters of charity called "Clean Sweep". The group of young men with learning difficulties, and their supervisor have worked together with St Benedict's to develop and enhance the grounds. This year they did a fabulous job on the central bed and lawned it. This has had a very big impact on the look of the scheme and to the view the residents now have out of their windows. "We have our own gardening competition each year which encourages the residents to do the most beautiful displays" said Pamela. She went on to say "I heard about the awards and registered St Benedict's.
A judge from Fingal came and inspected our scheme, and was very impressed. Now we have won and award for the best presented small Management Estate and we are delighted". The Ceremony was held at the Crown Plaza Hotel in Blanchardstown on Thursday 1st of October at 6.00 pm.
Pamela Farrell (SVP Resident Manager) was there to proudly receive the award on behalf of St Benedict's and accompanied by Dermot O Sullivan gardening supervisor and assistant Enda Bonnar from Clean Sweep and Dana Wieczorek a resident and also winner of best back garden in St Benedict's own internal competition.
Photo from award: Backrow L-R: Enda Bonnar, Dermot O Sullivan Frontrow L-R: Dana Wieczorek, David O Connor Lord Mayor of Fingal Co Dublin and Pamela Farrell (Resident Manager)