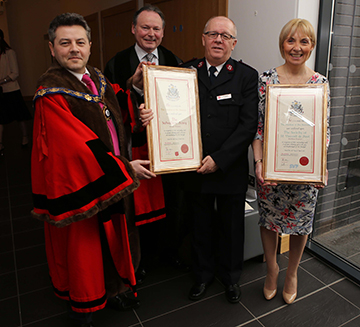 In recognition of their outstanding work, two local charities, the Society of St Vincent de Paul and the Salvation Army, have been jointly awarded the 'Freedom of the Borough Award' at a special ceremony in the Roe Valley Arts & Cultural Centre.
The historic decision to honour both charities was unanimously agreed by councillors of Limavady Borough Council in January and will be the first and last time the Council will grant such an award before the new Causeway Coast and Glens Council comes into power in April.
Accepting the honour on behalf of St Vincent de Paul, Pauline Brown, regional manager, said: "We are truly very honoured to be jointly bestowed with the highest award a Council can give and for that we sincerely thank all involved for this acknowledgment.
"Similar to the Salvation Army, St Vincent de Paul works quietly and confidentially away in the background, helping people through very difficult circumstances who, on many occasions, have nowhere else to turn. So we truly appreciate the recognition of our work from Limavady Borough Council.
"Through our 1660 volunteers across Northern Ireland, St Vincent de Paul works to help alleviate poverty in each and every community and enable those who are disadvantaged to benefit from opportunities that may otherwise be out of their reach. We rely entirely on our volunteer members and on the generosity of the public to be able to deliver our vital services.
"Sadly the demand for our work is on the rise which reflects the local level of poverty," she added. "Our volunteers make around 2000 visits a week across the province to families and individuals in need and offer practical, material and moral support as well as friendship and sometimes just as important, a kind, listening ear. This direct assistance can include providing food, clothing, furniture, cash assistance and fuel, with many new initiatives developed in recent years as the demand has increased, such as breakfast clubs, crèches, clubs for older people and an oil stamp scheme."
St Vincent de Paul also paid tribute to the work of the Salvation Army at the event and explained the close working relationship the two charities share.
Pauline continued: "As well as our joint annual Family Appeal, which sees around 30,000 toys and gifts distributed to children across Northern Ireland at Christmas each year, we also know that we can turn to each other at any time when either of us needs further assistance in our work and have both done so on many occasions. I think this is exactly how it should be – putting those that need help first and foremost and we are very lucky to share such a co-operative relationship with another hard-working charity."
Anyone in need of assistance or those wishing to find out more about the work of St Vincent de Paul should contact the regional office on 028 9035 1561 or email info@svpni.co.uk.
www.svpni.co.uk