As winter approaches, the Society of Saint Vincent de Paul (SVP) is receiving in excess of 2,000 requests for help a week in towns, cities and villages across the region.
Impossible Choices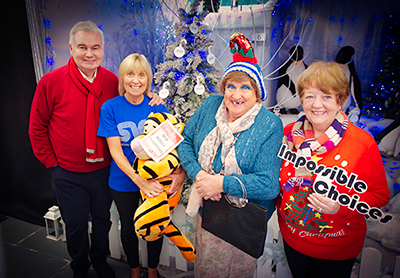 Launching the SVP Annual Appeal entitled "Impossible Choices", Mary Waide, SVP Regional President for the North Region, said that despite the promises of additional cost of living support payments being made by the government, there are clearly many people who are struggling to meet basic family expenses.
Mary said: "Last year was sadly record-breaking with 191,000 requests for help received at our national and regional offices. Unfortunately that figure looks likely to be exceeded this year with 168,000 requests already received across the island to the end of October, a 19% increase on the same time in 2021.
"We are very worried that many families will continue to struggle into next year. In the coming months the cost of living crisis will hit different households in different ways particularly with the rising costs of food, energy and housing. Add in the cost of celebrating Christmas and you can see how difficult life is going to be for those on fixed incomes, whether that income comes from government benefits or from low-paid employment.
"Those hardest hit will include one parent-families, low income workers, low-income households in rural areas, the unemployed, those who are retired or people with disabilities and their carers. The most vulnerable in our communities are all facing impossible choices this Christmas which will undoubtedly stretch into the new year. That is why we are seeking donations to help families pay for food to put on the table, heat their homes and ensure their children enjoy the magic of Christmas.
"We are appealing to people to please donate whatever they can spare to help SVP give the gift of choice this Christmas."
Ways to donate:
Online: www.svp.ie and nominate your local area
By phone:  028 9075 0161 and nominate your local area
By post: to SVP, 196/200 Antrim Road, Belfast, BT15 2AJ with cheques made payable to 'Society of St. Vincent de Paul'.
Blue envelopes: Keep an eye out for special blue envelopes in newspapers, churches and delivered to homes throughout the country.
About SVP
SVP is an international charity and the largest voluntary charity in Ireland.
SVP members in Northern Ireland work in all communities to support people whatever their background, who are experiencing poverty and social exclusion, promoting self-sufficiency and working for social justice.
Every year it spends £3m in Northern Ireland and last year, SVP responded to tens of thousands of calls for assistance from members of the public.
The charity also manages Vincent's shops across the province and for those interested in supporting SVP by becoming a member or volunteering, opportunities are available by visiting www.svp.ie, emailing info@svpni.co.uk or by phoning 028 9035 1561.