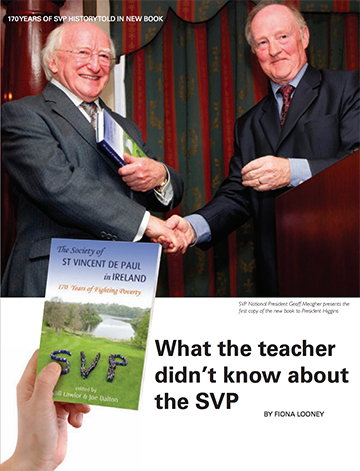 For the first time, this book records the details of the Society's origins in Ireland and its work in communities all over the country, through the personal recollections of members of the Society and an overview of the services provided to those in need.
This collaborative account weaves together the history, people and places of the SVP. It illustrates that, although the changing nature of poverty constantly requires new and flexible forms of response by the Society, it is through the actions of ordinary people that the spirit and vision of the Society of St. Vincent de Paul endures.
TO ME, SIMPLY, THE SVP IS HELP
I grew up in Greenhills, South Dublin, in a parish that – as our priests liked to remind us – boasted one of the largest annual collections for the Society of St Vincent de Paul in the country.
They would mention this every year, at the start of December, just before the wicker collection baskets with the distressed green-cushioned lining were passed around. it became, i suppose, a sort of annual challenge: if we had rattled the record books the previous year, then we would positively set them alight this christmas. and we did. every year, for as long as i lived in that parish, we bettered ourselves. and it wasn't as if we had much money. years later, i heard, anecdotally, that the only parish in the Dublin diocese to come close to matching our contribution was Dun Laoghaire, an area which had many pockets of affluence, all of them apparently deep. But Greenhills was very different.
By the time i reached secondary school at the start of the 1980s, the oil crisis of the 1970s had efficiently converted itself into a savage economic recession that blighted working class areas like ours. it was almost unheard of for girls in my school to have two parents working, and as we navigated our way unsteadily through that period of high unemployment, the number of my peers who had a parent working at all steadily dropped and all the time, we kept giving more money to the St Vincent de Paul.
This article is an extract from the Foreword which Fiona Looney has written. Fiona Looney is a writer, broadcaster and mother of three living in Dublin who, from her personal experience, writes the Foreword to the new book about the SVP - 'The Society of St.Vincent de Paul in Ireland – 170 Years of Fighting Poverty'
The book will be available nationwide from all major book stores costing €19.99

Available For Pre-Order from the publishers New Island Books Website.