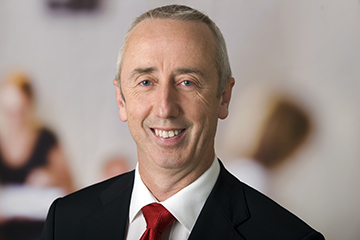 A car won in a raffle for the Society of St Vincent de Paul, East Region, has been donated to the charity by the winner, Labour TD and junior minister Kevin Humpherys.
The SVP East Region says that the donation by the Minister is very welcome and extremely generous.
Liam Casey, President, East Region (Dublin, Kildare, Wicklow), says that the gesture was particularly welcome at the moment as the Region has significant funding issues, with calls for assistance up 6% this year.
He said; "In addition to helping families with back-to-school costs during the past few months, our members are heavily involved in helping families struggling in emergency accommodation in hotels and B&Bs throughout the Region.
SVP volunteers are seeking to help families with a range of practical issues that arise from living in cramped conditions and the uncertainty of where they might be living from week to week.
"The range of issues facing our volunteers who visit these families seeking to provide practical and emotional support include, health, education, diet, social and psychological."
"With Winter and Christmas approaching we are bracing ourselves for even more calls for assistance than last year and that is why the donation of his prize by Minister Humphreys is really appreciated.
"Anyone who wishes to donate to the East Region should go to our website www.svp.ie/east where donations can be made by credit or debit cards or Pay Pal." said Mr Casey.
The draw for the 1.2l Skoda Fabia Style was made last Tuesday 1st September in the SVP East Region office in Sean McDermott Street, Dublin 1 by Liam Casey and supervised by an independent observer, Maria Barron, Principal, Rutland Street NS.
The winning ticket drawn had the name Mr Kevin Humphreys, Sandymount, Dublin.
It was announced on the SVP Facebook page next day that " .... Mr Humphreys will shortly receive his brand new car, which will be supplied by Skoda Dealers, Annesley Williams Limited."
When Minister Humphreys was contacted he very kindly made the offer to donate the car towards the Region's fundraising efforts.
"The funds received from the proceeds of the raffle and Mr Humphreys' generosity will be used at local Conference level in the East Region to help those in greatest need in our community." said Liam Casey.
The SVP members offer direct, personal assistance that is non-judgemental and based on the need of the individual or family. A major element of this support is in the areas of food, energy and education.
In addition the SVP provide a wide range of services for vulnerable people through its local Vincents shops, resource centres, housing, daycare and holiday schemes and other initiatives.
As well as making donations through the SVP East Region website, the receipt of Personal and Corporate donations is always welcome by post, to Fundraising, SVP East Region, PO Box 13413, Dublin 1, while telephone donations can be made by calling 01 8550022 during normal office hours.