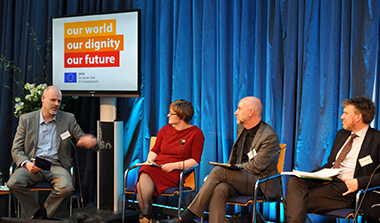 The Society of St Vincent de Paul (SVP) is taking part in the closing event of President of Ireland's Ethics Initiative National Seminar at Áras an Uachtaráin on Saturday 28 March 2015.
Eight SVP delegates are attending from different regions around the country along with representatives for the Vincentian Partnership for Social Justice, a sister organisation of SVP.
Speaking at the seminar John-Mark McCafferty, SVP Head of Social Justice and Policy, said that SVP's role as a leading community and voluntary sector organisation places it in a key position to contribute to the public conversations necessary in building an ethical society.
He also said that the President's Ethics Initiative has provided a space for volunteers, community and voluntary organisations, academics, public servants and representatives, and the general public to ask what vision and values we have as a people and what vision there could be for a fair and sustainable Irish society.
Mr. McCafferty said that in late September 2014 SVP co-launched the NGO phase of the Ethics Initiative with President Higgins and his staff, through a public facing event involving members and partners.
"The event in September provided a platform to engage and reflect on ethics and values among our own membership, staff, other community and other voluntary organisations". he said.