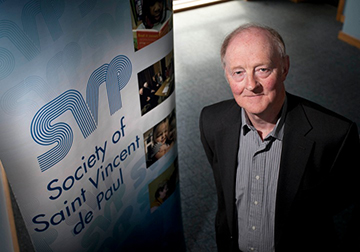 On behalf of the Society of St. Vincent de Paul, I would like to sincerely thank everyone who generously supported our annual appeal, "WE CAN'T DO IT ALONE" in November/December 2013.
The overwhelming response we received was vital not just in helping SVP bring toys, food and assistance to 175,000 families at Christmas, but also in helping us support the many thousands of families in need throughout 2014.
SVP spends over €80m per year providing support and services to those who need it most. In 2013 over half of this was provided through our 11,000 volunteers primarily to help families with food, energy and education costs. Calls for assistance have risen dramatically in recent years, and SVP ensures all donations that are made locally are spent locally.
Additionally, SVP provides hostels for the homeless, resource centres, community housing projects, shops and a range of other support activities.
I would like to take this opportunity to reassure all of our supporters that SVP operates in a transparent manner and fully supports moves to regulate the charity sector. Our Board (National Management Council) is entirely voluntary and it is our policy to keep the overheads required to maintain the work of SVP at the lowest possible level. SVP depends almost entirely on the support of the public. Your loyal support has enabled us to help those in need for the past 170 years and your ongoing generosity will allow us to continue this work long into the future.
Once again, let me express our sincerest thanks.
Without your support, much of what we do would simply be impossible.

National President - Society of St. Vincent de Paul
{^youtubevideo|(width)425|(height)264|(rel)False|(autoplay)False|(fs)True|(url)https://www.youtube.com/embed/D0UnqGm_miA|(loop)False^}