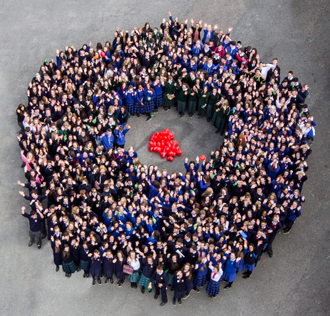 The Nuremore Hotel Carrickmacross was packed to the rafters on Thursday 7th May last for the 6th Annual St. Vincent de Paul Youth for Justice Exhibition. There were 540 Secondary School Students in attendance as well as their Teachers, St Vincent de Paul Conference members, Regional Council Members, the National SVP Vice-President and invited guests.
During this year's Youth for Justice Programme, 22 Transition Year classes completed a total of 24 Action Projects on behalf of SVP. The schools who participated were: St. Louis Secondary School Dundalk, St Vincent's Secondary School Dundalk, Our Lady's College Greenhill's Drogheda, Sacred Heart Drogheda, St. Aidan's Comprehensive School Cootehill, St. Claire's College Ballyjamesduff, Eureka Secondary School Kells, O'Carolans College Nobber, Scoil Ui Mhuiri Dunleer, St. Macartan's College Monaghan and Ardee Community School.
This is the 6th year the Youth for Justice Programme has been offered in the Region and it has gone from strength to strength. The theme for this year Programme was making connections and being hands on for St. Vincent de Paul. The Work of St. Vincent de Paul is about turning concern into action and the Youth for Justice Programme provides opportunities for the students to help others in practical ways. The students undertook action projects on behalf of St. Vincent de Paul.
This year the Action Projects ranged from:
Befriending the Elderly
Befriending those with special needs,
Shared Reading Projects with National Schools,
Literacy Projects with First Year Secondary School Students,
Christmas Hampers,
Clothes Appeals
Carol Singing,
A Pay it Forward project,
A Cool to be Kind project,
A Recycling Clothes Project
As well as Social Research projects on:
Mental Health,
Internet Safety,
Homelessness,
Abusive Relationships.
The Exhibition brought together all the participating schools to showcase the Action Projects they worked on during the year.
Each Transition Year Class put together a Display Board about their project and each class also did a project presentation. There were 22 project presentations on the day. These were very dynamic and creative and included: PowerPoint presentations, slide shows, short films, making music and singing, Dance, Rap, Zumba and even some break dancing.
The presentations were educational, thought provoking and innovative and ensured an enjoyable time was had by all.
The North East & Midlands Youth Development Worker, Attracta McNeice told the young people that they were 'her heroes' and all the projects they had completed had brought great joy to her heart and made her very proud of them all.
The Exhibition finished with everyone singing "Where is the Love" by The Black Eyed Peas, a song which reflects the two pillars of work of the St. Vincent de Paul Society - love and justice.
Our Regional Council on behalf of all in St. Vincent de Paul would like to thank all the students and teachers who participated in the programme and who made it all possible. A big thank you to Attracta for all her hard work, enthusiasm and commitment.
The Youth for Justice Programme provides students with the chance to reach out to members of their community and make a real connection with the groups they work with. Involving Secondary School Students with the St. Vincent de Paul Society helps them to help others and be a force for good. We hope that these young people will continue their involvement with St. Vincent de Paul into their adult lives and support us any way they can.