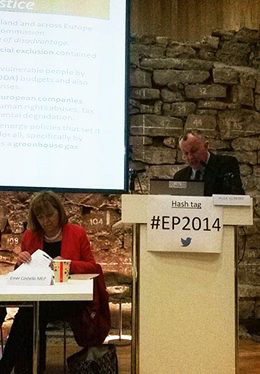 Eight of the nine candidates for the three Dublin constituency seats in the forthcoming European Parliament elections took part in a vibrant public debate tonight (Thursday 1st May) in Wood Quay Venue, Dublin City Council Offices.
Entitled "Stand for Social Justice" the event was chaired by journalist Michael Clifford.
The MEP candidates outlined and debated their positions on tackling child poverty, social exclusion, overseas development assistance, protection of human rights, and climate change. All nine candidates endorse the five-pledge document.
The candidates present were; Brian Hayes, TD; Nessa Childers, MEP; Eamon Ryan; Paul Murphy; MEP; Cllr Mary Fitzpatrick, Damon Matthew Wise, Emer Costello.MEP and Brid Smith. Apologies were received from Lynn Boylan.
The event was organised by Trócaire, in collaboration with Social Justice Ireland, and the Society of St Vincent de Paul.
The worry that European politics was more focused on economic and financial issues to the detriment of social and environmental issues was one of the key concerns raised.
Lorna Gold, Head of Policy and Advocacy at Trócaire said: "How Europe responds now to issues such as poverty and climate change will have an enormous impact on future generations. Climate change is causing increasing damage in Europe and is devastating communities in the developing world, leading to increased hunger. Irish MEPs need to play their role in ensuring a greenhouse gas emission reduction target of at least 55%."
Also speaking at the event John-Mark McCafferty, SVP Head of Social justice and Policy said, 'SVP members in Ireland, across Europe, and globally, are invited into the homes of the people who seek our help. We've witnessed the impact that the crisis and the austerity programme is having on struggling households across Ireland. Those least well off before the economic crisis remain so, and their difficulties have been worsened due to cutbacks to the supports and services on which they rely.
An adjustment of around €2 billion is to be made in Budget 2015 - in a context where over 700,000 of our people, including more than 200,000 children, are living in poverty. We need political leadership at all levels - European, National and local - which focuses on people and allocates enough resources to allow all children in Ireland to grow up free from poverty. We are asking candidates how they will work to ensure the full participation of all of our citizens - citizens in the broadest sense - in our recovery.'
Sean Healy, Director, Social Justice Ireland told the candidates; "Those who are elected in the upcoming elections need to recognise that development of a fairer future across the EU in general and in Ireland in particular will be possible only when priority is given to the common good. Futures based on the primacy of the market are not likely to be just or fair.
"Of course the market is important and an efficient market is crucial for development of the Union and the country. But there is far more to progress than getting the market right. A balance is required between the various aspects of life if the well-being of this and future generations is to be secured. Failure to recognise the need for such balance has produced the present lop-sided approach to policy development."