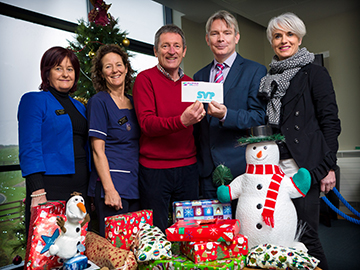 The staff of Whitfield Clinic took part in a highly successful Movember for the Irish Cancer Society, raising over €7000.
In recognition of the tireless work of St. Vincent de Paul in the locality, €1,000 was presented to SVP by the staff and management of Whitfield Clinic. Commenting on the donation, Mr. David Beirne, CEO of Whitfield Clinic said, "We are delighted to make a contribution to the Waterford branch of St. Vincent de Paul.
They work tirelessly and behind the scenes in providing care for those who need it most. Christmas can be a tough time for lots of people…individuals or families. Knowing that SVP is there to offer direct assistance and support is something that we believe, offers reassurance to those who need help. The staff of Whitfield was unanimous in wanting to offer this donation, along with gifts for the SVP Giving Tree, to this much respected and worthy cause."
Pictured (l-r):
Nuala Walsh, Whitfield HR Manager, Jo Breheny, Whitfield, Michael Curran, Waterford Area President, SVP, David Beirne, Whitfield CEO and Christina Morrissey, SVP.