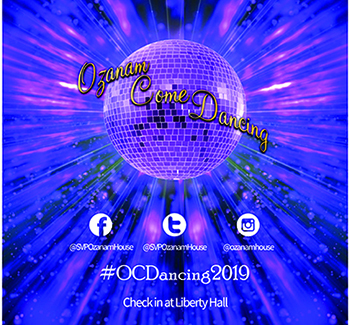 Following on from the huge success of the event for the past few years, Ozanam Come Dancing is back!
This year's event will take place in Liberty Hall, Dublin 1 on Friday 8th March, 2019. Doors will open at 6.30 pm and the show starts at 7.30 pm.
Tickets are just €20 each and are ON SALE FROM JANUARY 1ST 2019. Details and links to follow.
This year, 12 couples are volunteering their time to learn a dance by March 8th and this year they include staff from SVP National Office and East Region and volunteers from Ozanam House as well as various associated companies across Dublin.
The event once again will hosted by the wonderful Brendan Courtney and will be judged on the night by our celebrity judging panel that will again include the wonderful Katherine Lynch as well as our resident dance expert Mr Brian Keogh.
We look forward to seeing you there.